Neosurance hosted on Azure improves flexibility, reduces cost for UI agencies
Saint Paul, MN – March 1, 2017
Sagitec strengthens its Neosurance™ application's defining features of agility and scalability and improves its ability to solve unemployment insurance (UI) agencies' most pressing IT challenges by hosting the solution on Microsoft Azure Government Cloud.
Due to rising hosting costs and the inability to scale or evolve their IT systems in response to increased demand for services and business needs, UI agencies are increasingly seeking cloud-based solutions over on-premises hosting. Sagitec responded by hosting its UI tax and benefit system, Neosurance™, on the Azure Government Cloud giving them a solution that is flexible, secure and cost-effective.
Sagitec is currently in the process of designing and developing its cloud-based offering for three unemployment insurance agencies in the United States. "By building our solutions on Microsoft Azure Government Cloud, our clients get a reliable, flexible, stable, and cost-effective solution. In addition, Sagitec shares Microsoft's commitment to invest and serve the government community by providing innovative solutions to meet their needs," said David Minkkinen, Sagitec Partner.
Heightened Agility and Scalability
UI agencies that lack modern IT systems face considerable challenges when it comes to implementing federal or state law changes because their existing technology is difficult to maintain and enhance. The inherent flexibility of the Neosurance™ solution coupled with the stability and reliability of Azure ensures UI agencies will continue to meet changing federal and state requirements well into the future.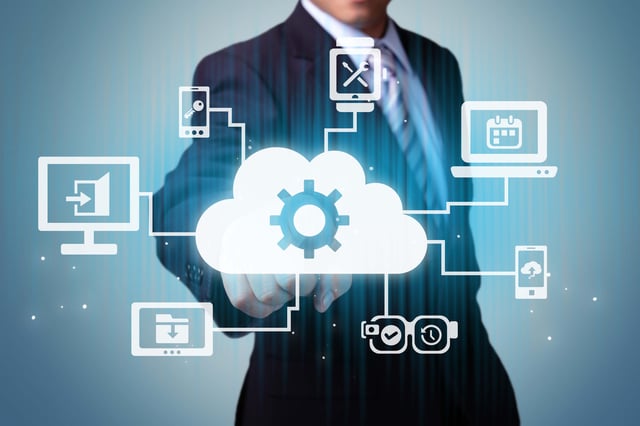 Neosurance hosted on Azure improves flexibility, reduces cost for UI agencies
The ability to scale in response to workload surges is also improved. The Neosurance™ cloud-based offering takes advantage of Azure Storage, which auto-scales up or down to accommodate wide fluctuations in workload with a 99.9 percent monthly uptime service level agreement. This allows UI agencies to respond to increased demand for services when unemployment increases.
Cost-Effective and Secure
UI agencies with outdated IT systems also face growing costs for mainframe hardware and software support. Often, these agencies are beholden to centralized IT departments that can increase service charges without repercussions. When Neosurance™ is hosted on Azure, UI agencies benefit from a simple and fair billing model: pay only for what you use. For instance, Azure Virtual Machines provide the flexibility of virtualization without the hardware expense, with the price based according to the resources used.
And, security is not compromised in exchange for affordability. Neosurance™ on Azure augments the intrinsic security features built into Neosurance™. Azure employs world-class security and compliance services critical to government agencies. These features compliment security features built into NeosuranceTM.
When Neosurance™ is hosted on Azure, UI agencies obtain an all-inclusive tax and benefit system with the added benefit of a comprehensive infrastructure solution.
"Microsoft Azure Government Cloud gives Sagitec a flexible, reliable platform to quickly respond to ongoing changes - both policy and business-related - for UI agencies," said Michael Donlan, vice president, U.S. State and Local Government at Microsoft Corp. "In addition, Azure Government Cloud is designed with world-class security and compliance services that are critical to government agencies including FedRAMP, HIPAA and IRS 1075."
To learn more about how Neosurance™ on Azure can help your agency, please click below.
About Sagitec Solutions
Sagitec Solutions, LLC designs and delivers tailor-made unemployment insurance, pension, provident fund, and healthcare and life sciences software solutions to clients of all sizes. Understanding that a dynamic world requires dynamic technology, Sagitec offers solutions that are highly configurable and extensible by nature. With deep industry experience in software implementation and systems integration, project management, consulting, hosting and software support, Sagitec is a partner clients can trust to deliver mission-critical IT projects. They are headquartered in Saint Paul, Minnesota. Learn more by visiting http://www.Sagitec.com or by contacting Rick Deshler at (651) 335-3406 or at Rick.Deshler@Sagitec.com.