The novel Coronavirus, COVID-19 has undone the world as we know it. Our relationships and interactions with the outside world and with each other have changed completely in just the last few weeks. These changes are unsettling. Will national and international borders remain closed? When will be able to resume our everyday lives or even be able to do something as simple as step out to our favorite restaurants, bars or cafés? Will human touch become taboo? Will our lives ever be the "same" again?
COVID-19 has forced millions of layoffs in the United States with many more millions who could be affected in the weeks to come. Businesses in the hospitality, retail, entertainment, travel, and food industries are the hardest hit. According to a Department of Labor (DOL) press-release, in the week ending March 22, the advance figure for seasonally adjusted initial Unemployment Insurance (UI) claims was 3,283,000, an increase of 3,002,000 from the previous week's revised level of 281,000. This is the highest level for initial claims since September 2, 2017, when it was 299,000. The record unemployment benefits applications filed by Americans last week was more than quadruple the previous record set in 2009. Many state workforce agency unemployment websites are crashing because of the spike in UI initial claims. The New York Department of Labor department has seen a 1000% rise in claims in some areas, according to a news report. The department has extended its hours and implemented a new system that requires applicants to only file claims on the day of the week that corresponds with their last name.
Source of image: NY Department of Labor Facebook Page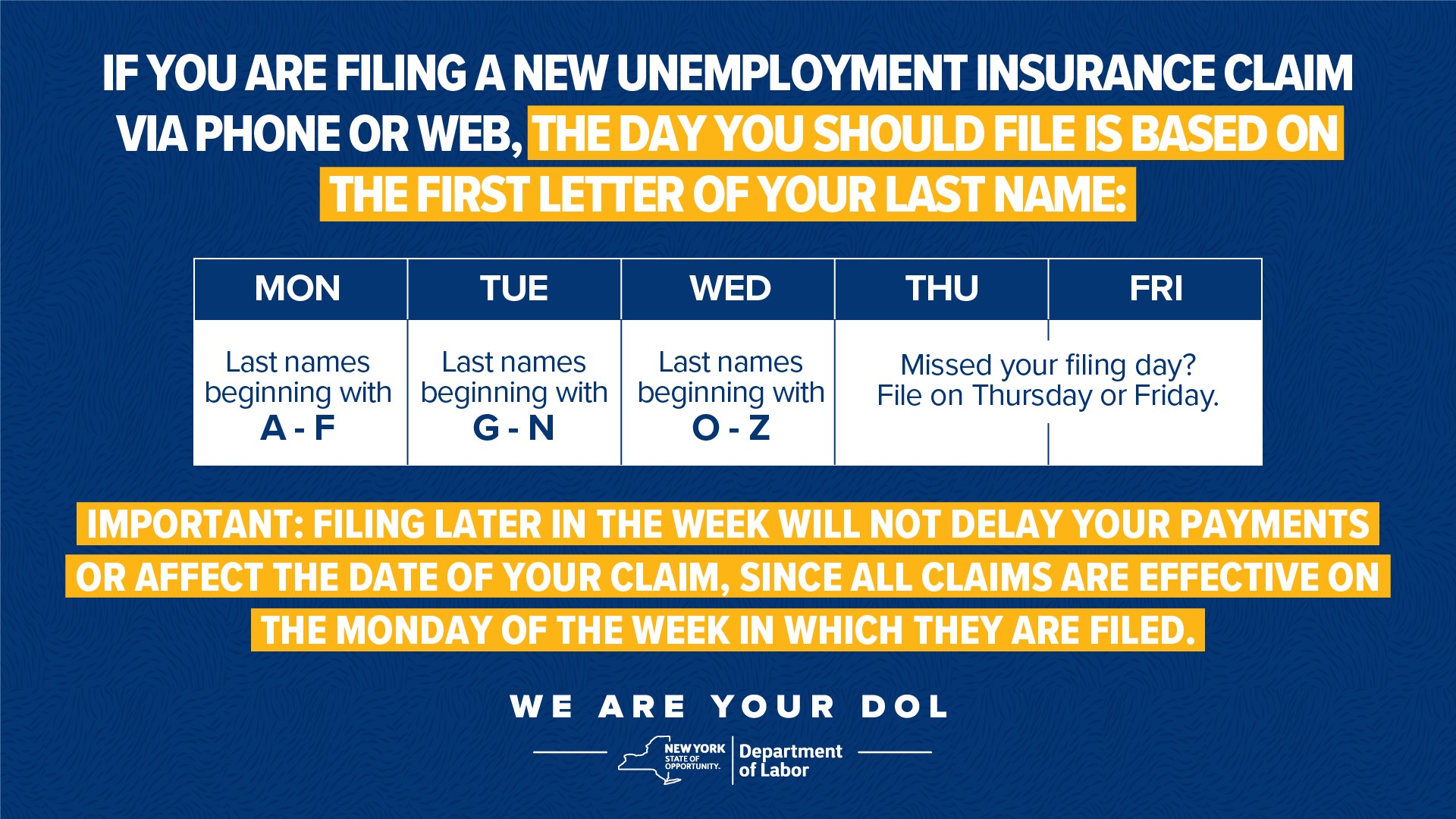 Many states are ill-equipped to handle the enormous influx of unemployed workers seeking benefits. State officials often urge people to file for claims online to avoid long holds on the phone or lines at the unemployment office, but that advice doesn't do much good if the websites are crippled and fail under a load of high claim volume - and most do. In 2018, a detailed review of 400 state government websites by the Information Technology and Innovation Foundation, a think tank, found that many of these websites needed significant improvements to better serve the public.
Every crisis presents unique challenges. Overcoming those challenges often leads to innovative and creative solutions. For example, 9/11 changed how we travel and what we are willing to endure in our lives in the name of security. The 2009 great recession forever changed the backbone of our financial industry. Crisis disruption reshapes our societies and economy. The COVID-19 is truly unprecedented in that it has disrupted both our day to day lives and our economy. The only way to meet this moment and overcome the challenges we face is to employ digital innovation across business and government to serve the public.
Now is the time for states to invest in the latest technology to avoid long wait times or crashing websites for citizens in dire need. What steps can you take?
Short-term solutions
Setting up remote environments: We helped one of our clients establish a new Virtual Private Network (VPN) so their staff could work remotely and from their homes – in one weekend.
Chat-bot: When first-time claimants enter a website, they may have basic questions that are simple to answer but take time away from staff that is best used for more complicated issues. Implementing a chatbot is a quick and easy solution to answer the most basic questions from a knowledge-base and leave the more complex questions to agency experts. Chat-bot can answer common simple questions such as "how to file a claim", "what is a weekly certification" to more account specific questions such as "what is my account balance", "when will I get my next payment".
Read more about how Sagitec offers chat solutions.
Mobile solutions: With smartphone adoption rates, mobile solutions are a good way to reach claimants who might not have a home internet connection or a personal computer. Claimants can access their claims information, certify for weeks of unemployment, record work search information, view payment history, and do much more right from their phone.
Read more about Sagitec's MOBIAS solution that puts self-service features in the fingertips of claimants.
Detecting fraud: Solutions today have the capacity to create a model for managing and detecting fraud by evaluating employer and claimant attributes. Attributes that define the propensity for fraud can be easily tailored to meet your unique needs without complex software programming. Advances in machine learning and AI make it easy for users to define, train, evaluate, and execute the fraud model as well as analyze the results.
Read more about Neofraud, Sagitec's solution to detect Unemployment Insurance fraud.
Long term solutions
Investing in a scalable solution: As technology changes rapidly, the Unemployment Insurance system that states implement must be one that can scale up with changing regulations and technology. A good solution has components that meet many of the state UI tax and benefits requirements right out-of-the-box. This significantly reduces project implementation risks, maximizes your ROI, and enhances the quality of your eventual solution platform that allows your UI tax and benefits solution to evolve continuously. Look for a solution designed to drive self-service adoption rates for claimants, employers, and third-party administrators, allowing your stakeholders to manage their accounts independently and reduce reliance on UI staff. The solution must have the capability to automatically scale the system infrastructure based on the user load dynamically when the need arises. This will position the states to respond to claim loads such as the ones experienced last week effectively. Such capabilities can be implemented using automated monitoring of system performance metrics and implementation of automated scripts that respond to the system performance metrics threshold levels and bring up additional processing capacity. We will be deploying auto-scaling feature for one of our clients in Maryland.
Read more about Sagitec's Neosurance solution that helps you avoid technology obsolescence with its tiered architecture and ability to scale.
Adopt cloud-based solutions: According to an ITSC/NASWA study, most states find it difficult to scale-up when workloads surge as the capacity of their legacy systems is limited. Many cloud solutions can auto-scale up or down thanks to scalable storage services in the cloud. Our cloud-based UI tax solution for the South Carolina Department of Employment and Workforce (SCDEW) has allowed them to easily ramp up to handle the enormous increase in traffic during quarterly filings and then ramp back down when the filings are over, all done seamlessly without any problems.
Read more about how Sagitec implemented Microsoft Azure Government Infrastructure as a Service (IaaS) solution, a highly secure and scalable, FedRAMP-Certified Government Community Cloud (GCC) solution. Microsoft Azure is secure, highly available, resilient, and scales to government customer demands. Azure Storage is a scalable storage service in the cloud, which can auto-scale up or down to meet massive volumes with a 99.9% monthly uptime SLA. Our solution is also proactive meaning that agencies don't have to call us to inform us about the increase in demand unlike some of the other solutions in the market.
Technology, in the months to come, may become the only accessible or viable alternative to be in touch with the outside world. State and local governments must think creatively and smartly employ technology to best serve their constituents in this time of the crisis.
Reach out to us to know more about labor and employment solutions and download our chatbot infographic.