Company is recognized for its innovative and transformative solutions for the public sector industry
ST. PAUL, MN - August 31, 2016 -
On Aug. 9, Sagitec was named Microsoft State and Local Government Solution Partner of the Year for 2016. The award was announced at the annual Microsoft U.S. Public Sector Kickoff and Industry Solution University event held in Washington, D.C. The award recognizes Sagitec's excellence in providing public sector customers innovative and unique solutions based on Microsoft technologies.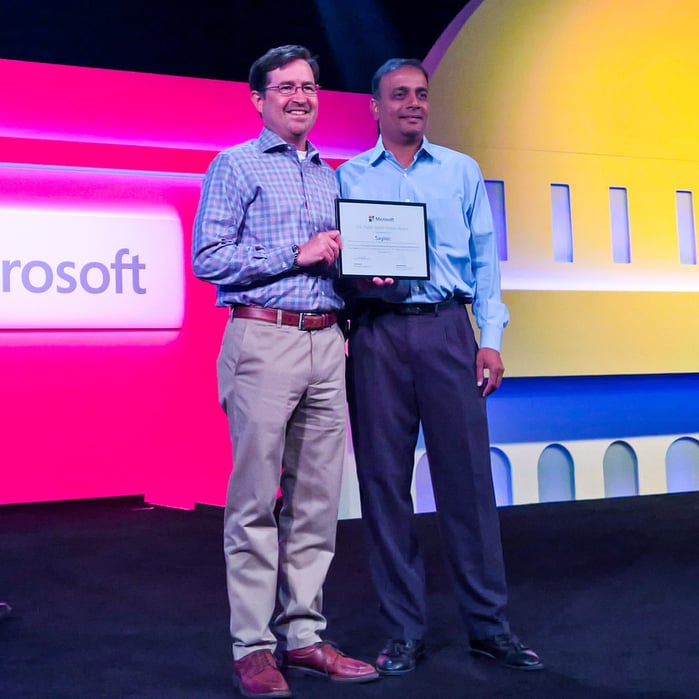 Sagitec Partner Ranjith Kotcherlakota (right) received the prestigious technology award at the annual award ceremony on Aug. 9.
The annual award nomination process drew hundreds of applicants from the U.S. Public Sector industry, yet it was Sagitec's key performance indicators and relationship with Microsoft that garnered the most votes from the presiding judges.
Since entering into the market in 2004, Sagitec has offered Public Sector technology solutions on the Microsoft platform, most notably as the basis for its application development framework. In addition to the Sagitec Framework™, the Microsoft .NET technology stack underpins Sagitec's software design and development suite that provides business and technology users with the tools they need to design and maintain their tailor-made solutions.
Microsoft's .NET technology and the Microsoft Azure Government Cloud have helped Sagitec become a unique player in the markets it serves by offering unparalleled solutions for government agencies of all sizes, said Ranjith Kotcherlakota, Sagitec Partner. "Building the Sagitec offering on top of Microsoft technology has greatly helped our growth as a company. Microsoft offers a dependable, easy-to-use, and continuously evolving technology platform that our customers can invest in and use to grow their critical line-of-business applications."
In 2013, Sagitec expanded its collaboration with Microsoft Corp. by adopting the firm's Azure Government cloud solution. While this decision was bucking the trend of conventional on-premises hosting at the time, the public sector is now seeking cost-effective, cloud-based solutions that meet stringent security and certification requirements. In the last two years, Sagitec's cloud-based solution offering has resulted in the company winning four of the last six statewide unemployment insurance tax and/or benefits procurements.
"By building on the Microsoft Cloud for Government platform, our clients get a reliable, stable solution that is backed by the company's ongoing commitment to and investments in serving the government community," said David Minkkinen, Sagitec Partner. "As a result, our cloud hosted services solutions can support changing federal, state and local requirements, as well as the ongoing changes in business and technology trends in the public sector market for years to come."
"Our award winners excel at providing our public sector customers with innovative and unique solutions built on the Microsoft platform," said Michael Donlan, vice president, U.S. State and Local Government, Microsoft. "Sagitec has demonstrated that it is embracing Microsoft's cloud-first mindset to provide public sector agencies the tools they need to create and deliver transformational solutions."
The Microsoft award validates why Sagitec entered into the market more than a decade ago: to design and deploy scalable solutions that avoid technology obsolescence, said Kotcherlakota. "This award is significant for Sagitec because it affirms our strategic direction in offering high business value and cloud-ready solutions that can work in the evolving hybrid cloud," said Kotcherlakota.
About Sagitec Solutions
Sagitec Solutions, LLC designs and delivers tailor-made pension administration, provident fund, health care and life sciences, and unemployment insurance software solutions to clients of all sizes. With broad industry experience, Sagitec helps their customers achieve strategic business objectives, enhance service offerings, and lower operating costs. They are headquartered in Saint Paul, Minnesota. Further information can be found at http://www.sagitec.com or by contacting Rick Deshler at (651) 335-3406 or at rick.deshler@Sagitec.com.
Do you want an analysis of your current IT infrastructure but aren't ready to contact Sagitec for an in-depth assessment? If so, take our free and quick Pension System Assessment to learn how your current system measures against industry best practices.