Sagitec HealHubTM is a health data-ops platform to jump start your digital journey.
Sagitec Solutions, a global technology company that designs and delivers IT solutions for the pension and unemployment insurance industry, has expanded into the healthcare and life sciences (HLS) market. KV Subrahmanyam, Ravi Sankar and Lakshminarayan Saravanan, three industry experts will lead this diversification effort. They partnered with Sagitec because of their reliable and scalable platform framework. Sagitec's development suite is a catalyst that they exploited to develop HealHubTM – a HIPAA compliant, cloud-based data-ops platform for the HLS industry.
This venture into the HLS markets aligns with Sagitec's exponential growth pattern and passion for continuous innovation. "Since entering the market in 2004, Sagitec has offered innovative technology solutions to pension and UI industry and our vision has been to expand into adjacent and relevant markets in due course," said Rick Deshler, Sagitec Partner. "Health care benefits are integral to many of the markets we serve. As focus shifts from plan design to optimizing how healthcare is accessed and delivered, we are sure Sagitec HealHubTM would be able to transform many of these programs and benefit our customers and markets."
HealHubTM offers a digital health stack for organizations to transform their healthcare programs ranging from member engagement, pill+ services, connected health for pharmaceuticals, reducing fraud and waste for health insurers, analyze real world evidence and other value-based programs. HealHubTM has the data infrastructure to convert myriad types of health data into live action and insight for HLS organizations.
Digital technologies are clearly seen as a foundation to disrupt and transform the healthcare industry. But healthcare firms, life sciences companies and large employers are overwhelmed with questions on where to start, what to focus on and how to scale their digital transformation journey.
"As Life Sciences and Healthcare firms look to gain strategic advantage by accessing new and rich sources of data, Sagitec HealHubTM provides a cloud analytics platform that can be used to jumpstart their digital transformation," said Subrahmanyan. "We have bought extensive sets of open healthcare data, built rich health condition and behavior models that will allow organizations to build rich insights in a very short period of time."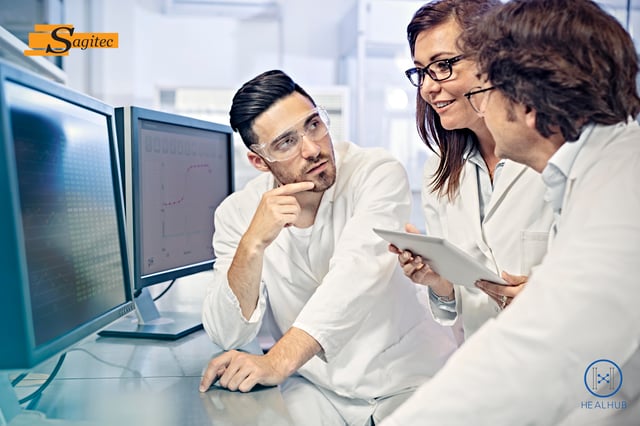 Sagitec HealHubTM offers many advantages to large employers, healthcare and pharma companies:
It can consume myriad types of health data from claims, clinical, social, sensor, medical devices, apps, and enterprise data and instantly convert them into live action and insight. It can also on-board any new data sources that they need for their changing business needs
HealHubTM provides faster access to actionable insights – over 100 pre-built data models including episode groupers, disease cohort builders, segmentation by health behavior and cost drivers to assist teams and engage patients better
It can reduce implementation time for an organization's digital health stack by 70%, at a fraction of the cost, is agile and has limitless scale
HealHubTM uses Microsoft Azure extensively for machine learning, analytics, and business intelligence. In addition to enterprise-class security, Azure is also HIPPA compliant to ensure that health data is secure.
"Sagitec's HealHubTM platform is an innovative solution helping health and life sciences customers in their digital transformation journey," said Laura Wallace, Vice President, Health + Life Sciences at Microsoft Corp. "Microsoft Azure provides Sagitec with a flexible and scalable cloud platform that enables HIPAA compliance, making it easier for HealHubTM to evolve over time."
Sagitec HealHubTM is a great fit for healthcare and life sciences organizations to start their digital journey and even has tremendous potential to help organizations self-administer health benefits. Sagitec also provides application development and maintenance services for HLS organizations and has already started working with clients in this space.
Ramesh Bulusu, CIO of United Educators says "I believe big data and analytical platforms will drive decision making and offer insights that can optimize performance across enterprises. HealHubTM promises to be one such platform."
"The Industry is at an inflection point for digital and use of analytical tools to drive a new normal in terms of 'How Business will change', 'how data availability can change patient behavior and drive costs down'", said CT Ranganathan, Managing Director of RPG Life Sciences Limited. RPG Life Sciences Limited is one of the leaders in the Nephrology segment. "Platforms like HealHubTM can establish a direct connect with patient cohorts and help provided in time can improve patient care and compliance to treatment."
HealHubTM has the ability to integrate with the Internet of Things and cleanse data to provide a holistic view of the data through dynamic visualization.
Find out how HealhubTM works.
About Sagitec Solutions
Sagitec Solutions, LLC designs and delivers tailor-made pension, provident fund, unemployment insurance, and healthcare and life sciences software solutions to clients of all sizes. Understanding that a dynamic world requires dynamic technology, Sagitec offers solutions that are highly configurable and extensible by nature. With deep industry experience in software implementation and systems integration, project management, consulting, hosting and software support, Sagitec is a partner clients can trust to deliver mission-critical IT projects. They are headquartered in Saint Paul, Minnesota. Learn more by visiting http://www.Sagitec.com or by contacting Rick Deshler at (651) 335-3406 or at Rick.Deshler@Sagitec.com.