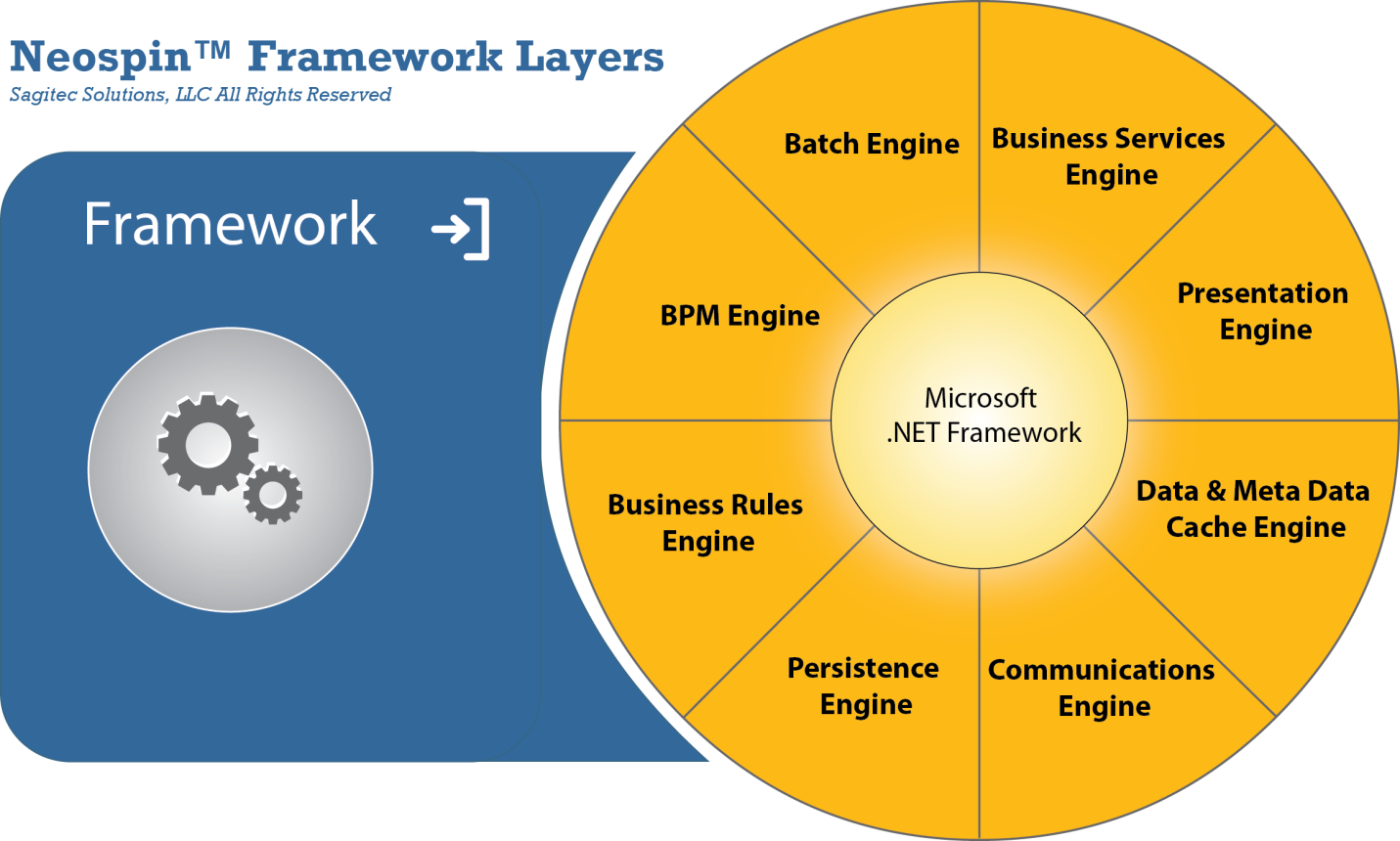 The Sagitec Framework™ provides the foundation upon which Sagitec's benefit management solutions, Neospin™ and Neosurance™, are built. It is a domain-neutral technology architecture designed to mitigate the risk of technical obsolescence and simultaneously respond to rapidly changing business requirements.
The Framework is an 'n-tier', component-based, object-oriented software architecture built on top of Microsoft .NET. Featuring a reusable set of stacked architectural layers, the Framework simplifies maintenance and fosters the reuse of "black box" services, allowing developers to focus on delivering business outcomes. It allows for high-quality software implementation without restricting the ability to target different requirements.
Separating the technical architecture (Sagitec Framework) from the line-of-business solution (Neospin™) means technology can evolve free from solution constraints. This separation removes business rules from the software and places them in a rules repository where they can be accessed and maintained. This way, rules change without affecting underlying software. And, in many cases, underlying software changes without affecting rules.
The Sagitec Framework™ lets clients reap the benefits of package-based software (implementation speed, reduced cost, and reduced risk) with the benefits of custom development (a solution that fits a client's precise requirements). And since the Sagitec Framework™ was developed using Microsoft .NET, any upgrade Microsoft rolls out is integrated with ease. This enables scalability and extensibility, meaning clients won't outgrow their system.
Sagitec produces significantly fewer lines of code than their competitors do. This is achieved by offering clients a full-featured, externalized business rules engine, an externalized business process modeling and execution engine, and a design studio for generating Web forms, data binding, correspondence generation, and interface file management. Fewer lines of code mean fewer intrusive software changes, reduced regression testing, improved performance, and improved agility. While most of Sagitec's competitors are busy re-coding their systems to untie the rules they implemented for earlier clients, Sagitec is able to focus more time on clients' unique business problems.
Considering a new line-of-business solution? Take our free pension system assessment and receive a customized report that contains an evaluation of your current pension administrative software along with key recommendations for improvement.
Sagitec Solutions, LLC designs and delivers tailor-made pension, provident fund, and unemployment insurance software solutions to clients of all sizes. With broad industry experience, Sagitec helps their customers achieve strategic business objectives, enhance service offerings, and lower operating costs. Find further information by visiting http://www.sagitec.com. For more information on the Sagitec Framework™ and Neospin™, contact Rick Deshler at (651) 335-3406 or at rick.deshler@Sagitec.com.