Homelessness is a continual problem in many countries and the same goes for the U.S. Though many states have reported a decrease in homelessness, there are as many states where there has been an increase in the number of people without proper homes. While there are quite a few shelter homes and organizations trying to provide daily accommodation, they are always in dire need of resources and donations.


Clothing forms a large part of donations and while they definitely help provide warmth, socks are rarely included in these donations. Members of the homeless population spend most of their time walking from place to place, frequently with inadequate socks and poorly fitting shoes. Health conditions like diabetes, prevalent in the homeless population, can further complicate the danger of poor foot care.

Sagitec recognized this need and the project team working at California State Teachers' Retirement System (CalSTRS) conducted a successful sock drive. The team of 14 collected 168 pairs of men's, women's, and children's socks for people in Sacramento experiencing homelessness. These will be donated to the 'Next Move' organization to distribute to the 500 people they serve on average every day.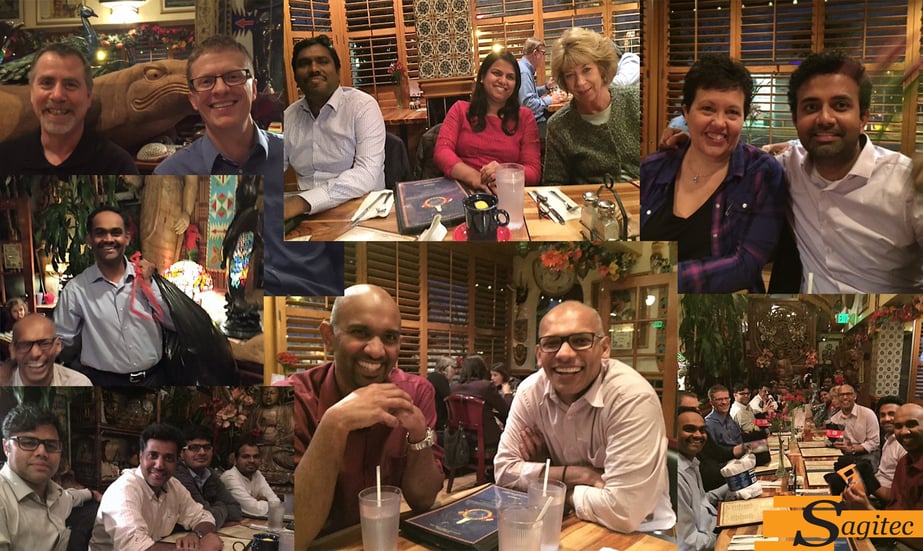 Sagitec Team Celebrating after a Successful Sock Drive - 168 Pairs Collected! #RandomActsofKindness Week
See a need...Fill a need is the motto that keeps Sagitec and the Sagitec team motivated to keep providing for social causes throughout the year. Last year, Sagitec along with Aid India, donated generously to the millions displaced by the Chennai floods in India. We also helped West Virginia recover from record floods.
These community efforts are in line with Sagitec's core values to be bigger than ourselves and that we are more than just our work. We challenge ourselves to do more and be more than expected and make positive contributions to the many communities in which we live and work.
About Sagitec Solutions, LLC
Sagitec Solutions, LLC designs and delivers tailor-made pension, provident fund, unemployment insurance, and healthcare and life sciences software solutions to clients of all sizes. Understanding that a dynamic world requires dynamic technology, Sagitec offers solutions that are highly configurable and extensible by nature. With deep industry experience in software implementation and systems integration, project management, consulting, hosting and software support, Sagitec is a partner clients can trust to deliver mission-critical IT projects. They are headquartered in Saint Paul, Minnesota. Learn more by visiting http://www.Sagitec.com