In 2015, flooding in South India claimed over 500 lives, and displaced more than 1.8 million. The city of Chennai was particularly hard-hit.
With an office located in Chennai, Sagitec felt compelled to help their community rebuild. Sagitec teamed up with Aid India and donated funds to have seven homes built for underprivileged families who lost their homes as a result of the flood. All seven homes have been completed and handed over to displaced families.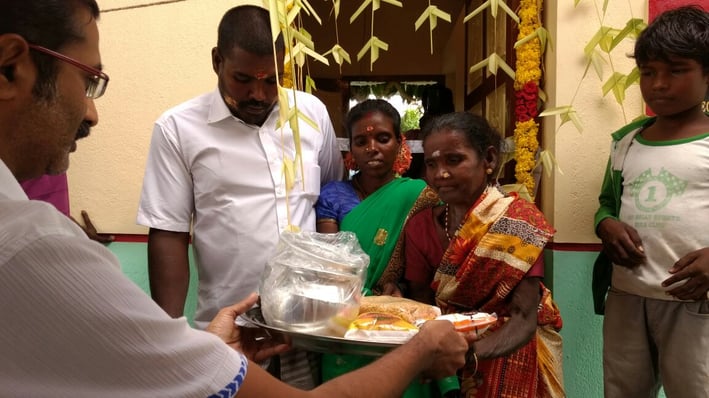 Donating to the Chennai Flood Relief efforts is in line with Sagitec's core values to:
Be bigger than ourselves
Remember that we are more than our work
Challenge ourselves to do more and be more than expected
Make positive contributions to the many communities in which we live and work
Check out the slide show below to view images of homes being handed over to flood-affected families.
About Aid India
Aid India is a not for profit organization dedicated to empowering the socially disadvantaged of Indian society. To learn more about Aid India, visit http://www.humanistaidindia.org/.
About Sagitec
Since 2004, Sagitec Solutions, LLC has been delivering strategic, tailor-made software solutions to state and local government agencies. Understanding that a dynamic world requires dynamic technology, Sagitec offers solutions that are highly configurable and extensible by nature. They help our clients target unique business requirements, respond rapidly to change, and evolve at will. Sagitec has the expertise necessary to help their clients achieve strategic business objectives, enhance service offerings, and lower operating costs. With deep industry experience in software implementation and systems integration, project management, consulting, hosting and software support, Sagitec is a partner clients can trust to deliver mission-critical IT projects.
To learn more, download Sagitec's pension administration solution information packet.