Sagitec has partnered with Aid India to construct houses for families in need in rural India for the past three years.
Aid India is a registered charitable trust that has focused on the benefit and upliftment of society through its various programs across Tamil Nadu, a southern state in India, for the past 24 years. Aid India field team directly works with the local communities to select the beneficiaries. You can learn more about them at their website: https://www.aidindia.in/.
Aid India runs several programs, including Eureka Super Kidz After-School Programs, Eureka In-School Programs, Eureka EdTech centers, and the program that Sagitec partnered on, Eureka Homes.
The Eureka Homes program identifies vulnerable families who require the most assistance and provides them with a safe place to live. Eureka Homes provides the much-needed shelter and security for the poorest families to live with dignity. From donations, like the one from Sagitec, Eureka Homes has constructed 400 homes so far, which has been life-changing and a dream come true for many of these families.
In the first project, the funds from Sagitec were used to construct seven houses for people who lost their homes during the flood and cyclone in the Kottamedu and Karumbakkam villages in the Chengalpattu District. For the second project, Sagitec helped build three houses for families in need in the Namandi Village, Thiruvannamalai District, and Karthikeyapuram village, Thiuthani district of Tamilnadu.
For the most recent project, Sagitec helped build five houses from the ground up in Pudukkottai, Kamaraj Colony. Each of the families had a unique story, and the homes that we were able to provide truly changed their lives for the better.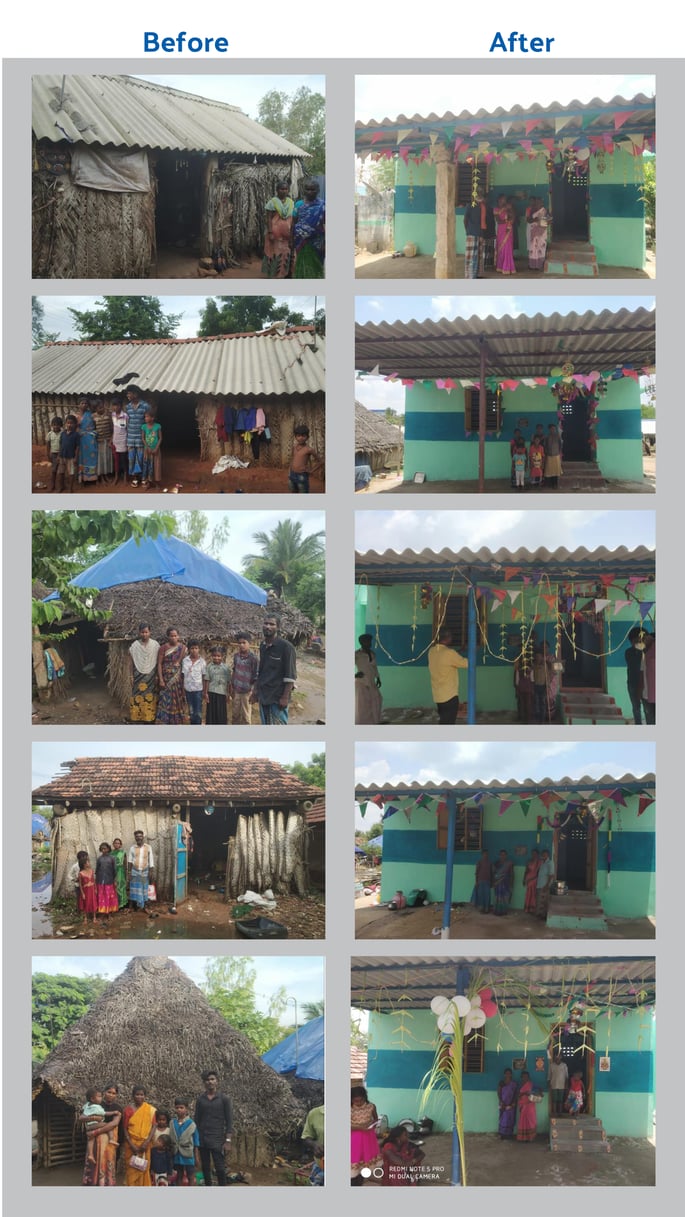 Our Admin and Finance teams closely monitored the progress of construction, and employees from other departments lent a helping hand in distributing food, clothes, books, and toys to the villages.
Sagitec CFO Rajagopalan Madhavan said, "the event was well organized, but beyond that, we got a chance to move away from our comfort zone and see some stark realities on how many poor people live." He continued, "when we hand over a permanent place for them to reside in, it gives us immense satisfaction to see the joy and gratitude in the beneficiaries. This experience has made me resolve to involve myself personally in helping the less privileged to the extent I can."
We are currently coordinating the rebuilding of five additional homes. We are proud of our partnership with Aid India. Initiatives like these at Sagitec reflect our commitment to our core value of being bigger than ourselves, doing more than expected of us, and making positive contributions to the communities that we live and work in.