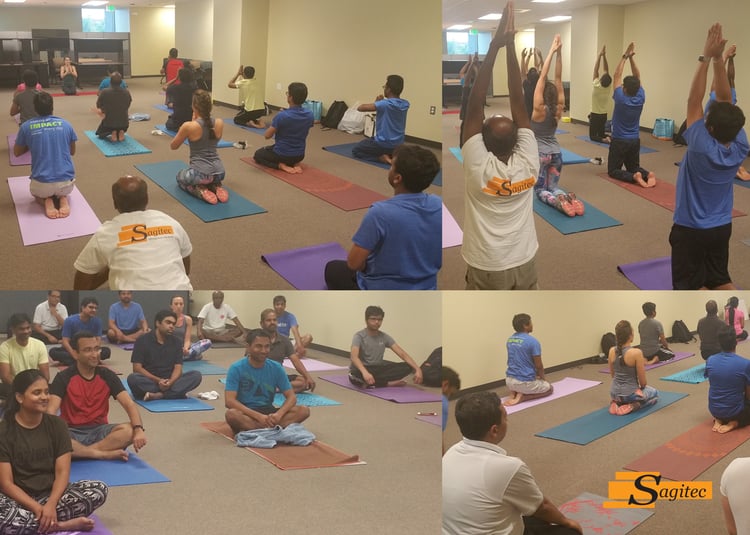 After working hard developing a tailored unemployment insurance solution for the Maryland and West Virginia Consortium project, a group of Sagitec employees are practicing the 3,000 year-old tradition of yoga once a week after work. A licensed yoga teacher is leading the 10-week yoga class, which takes place at the office building of Sagitec's client, the Maryland Department of Labor, Licensing and Regulation.
Sagitec partner Siva Sambasivam spearheaded the yoga class as a way to bolster team morale while simultaneously helping employees improve their physical and mental health. Senior development manager Neeraj Jain is one such employee who is already witnessing the health benefits of yoga after participating in the first class on June 7.
"Even though it takes some time and continued practice to achieve the benefits of yoga, I do see some reduced stress and improved stretching from the first class," said Jain. In addition to stress relief and flexibility, Jain said he looks forward to gaining other health benefits of yoga, such as improved sleep, posture and physical strength.
The yoga class is just one of the many ways Sagitec is fostering a healthy and positive work environment for their staff. In addition to promoting mindfulness through yoga, Sagitec has conducted weight loss challenges and coordinated 5K runs. "We plan to conduct health-related activities on a regular basis to ensure our staff's health remains a priority," said Sambasivam.
Once the 10-week yoga program is over, Sagitec will offer a yoga class on a regular basis if there is enough interest. "I think employees will see the value in the classes, and I am hopeful we can offer future yoga programs for our employees," said Sambasivam.
If you are interested in working for a company that cares about its employees' health and well-being while providing endless opportunities for professional growth and development, check out our current career openings.
About Sagitec Solutions
Sagitec Solutions, LLC designs and delivers tailor-made pension, provident fund, unemployment insurance, and healthcare and life sciences software solutions to clients of all sizes. Understanding that a dynamic world requires dynamic technology, Sagitec offers solutions that are highly configurable and extensible by nature. With deep industry experience in software implementation and systems integration, project management, consulting, hosting and software support, Sagitec is a partner clients can trust to deliver mission-critical IT projects. Find further information by visiting www.Sagitec.com or by contacting Rick Deshler at (651) 335-3406 or at Rick.deshler@sagitec.com.