Last week, Sagitec employees from five different office locations throughout the U.S. all had one thing on their mind: give back to their local communities. From Denver to Baltimore and points in between, Sagitec employees rolled up their sleeves and fed people in need.
Considering Sagitec is a global company with many teams and offices, the second annual company-wide community service event is a great way to foster comradery and shared purpose, said Sagitec's Senior Partner Piyush Jain. "I believe that this event in its own subtle way builds a common company culture where everyone feels aligned with Sagitec's values and goals."
Community service is a cornerstone of Sagitec's guiding values and the coordinated event is a way for Sagitec's employees to embody that principle, added Jain. "I strongly believe that we must strive to be bigger than ourselves and adopt a worldview perspective. This means caring for the people around us and serving the communities where we live and operate."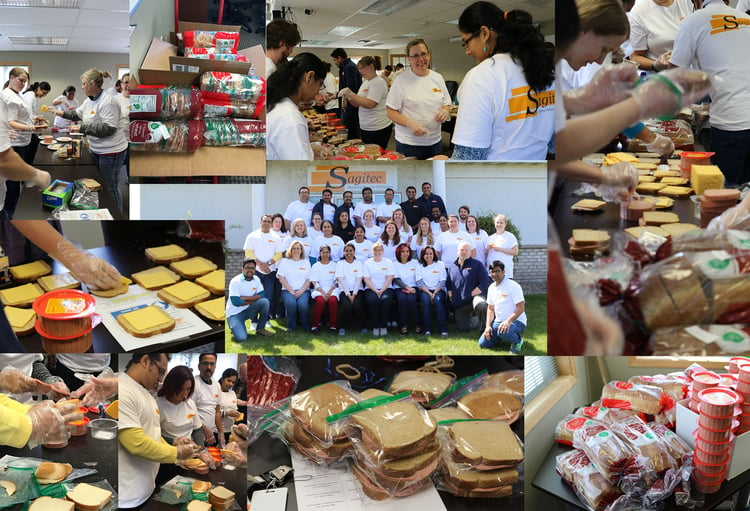 While each office location's volunteer event was slightly different, all of the activities had two things in common: they helped feed people in need and required time and effort to accomplish. Instead of merely donating money to a non-profit organization, for example, Sagitec's leadership thinks it is important that their employees get out in the community and lend a helping hand.
"We view community service as more than donating money to charitable organizations," said Jain. "We pick events and causes where we can devote our time and efforts (not just dollars) and that also promote good teamwork."
The coordinated event was part of National Volunteer Week (NVW), which is an annual initiative aimed at honoring the efforts of volunteers with a dual hope of inspiring others to volunteer in their communities. A primary purpose of NVW is to illuminate the good deeds of organizations' volunteer efforts, but Jain said publicity is not what propels Sagitec's leadership to promote corporate volunteerism.
"Some organizations engage in corporate social responsibility for ulterior and self-serving motives," said Jain. "Sagitec engages in community service because we earnestly are driven to build stronger communities through service. We seek no recognition due to these efforts or measure the success of such initiatives in terms of market value or financial gain."
What compels Sagitec to engage in volunteer activities is epitomized in the following quote by American cultural anthropologist Margaret Mead: "Never doubt that a small group of thoughtful, committed citizens can change the world; indeed, it's the only thing that ever has."
Through shared purpose and action, Sagitec's employees are making the world a better place for people in need within their communities.
To learn more about Sagitec Solutions, please click the button below.
About Sagitec Solutions
Sagitec Solutions, LLC designs and delivers tailor-made pension, provident fund, unemployment insurance, and healthcare and life sciences software solutions to clients of all sizes. Understanding that a dynamic world requires dynamic technology, Sagitec offers solutions that are highly configurable and extensible by nature. With deep industry experience in software implementation and systems integration, project management, consulting, hosting and software support, Sagitec is a partner clients can trust to deliver mission-critical IT projects. Find further information by visiting www.Sagitec.com or by contacting Rick Deshler at (651) 335-3406 or at Rick.deshler@sagitec.com.