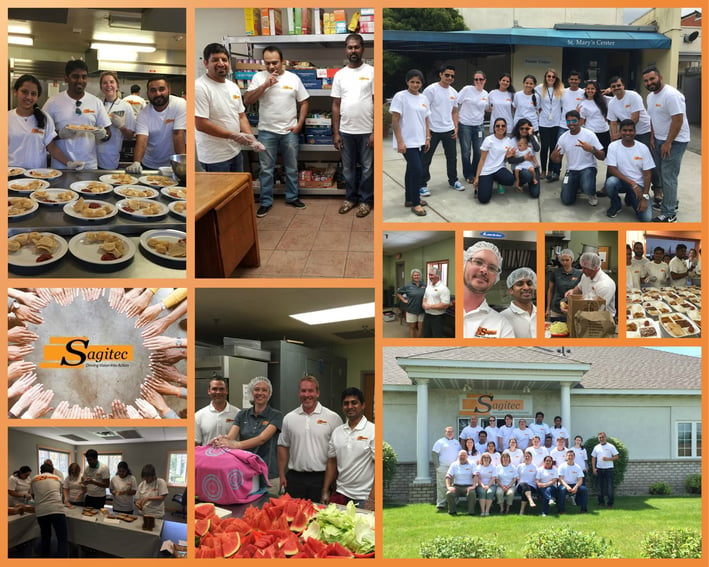 More than 50 Sagitec employees located at various offices across the United States participated in a day of giving to help feed people in need within their communities. Sagitec Solutions' leadership believes that the company should be more than just a leader in developing innovative IT solutions – it should also be a positive influence within the community. This notion is underscored in one of the company's core values, which states "Be bigger than ourselves." Specifically, Sagitec is a company that believes in contributing to the communities in which the company operates; to see things from different perspectives; and to do more than is expected.
Jefferson City, Mo
On Friday, June 17, nine employees took time away from their busy work schedules, which consists of supporting various retirement systems' IT needs within Missouri and Canada, and prepared and served a lunch at the Salvation Army's Center of Hope in downtown Jefferson City, Mo. The Center of Hope, which is a 40-bed shelter for homeless men, women and their children, serves three meals daily and always is in need of donations, said volunteer coordinator and Sagitec employee, Jill Davis.
Sagitec employees purchased, prepared, and served a savory meal of grilled burgers, hot dogs, bratwursts, baked beans, potato salad, watermelon, cookies and lemonade to their community members in need.
The Salvation Army staff and occupants at the shelter expressed their gratitude for Sagitec employees' philanthropic gesture, recounts Davis. "I think we were personally thanked by employees of the Salvation Army and the families that we served at least two dozen times. We were also told that our meal was easily in the top five best meals they have ever had at the Center of Hope."
Oakland, Calif
On Friday, June 17, 13 Sagitec employees took time away from their typical work assignments of designing and developing a new pension administration solution for the University of California and volunteered their time serving a home-cooked meal to around 40 at-risk seniors at St. Mary's Center in Oakland, Calif.
The meal consisted of traditional Indian food, some of which was prepared by Sagitec employees at their homes, and the rest was prepared at St. Mary's Center. "They loved the food and our spirit," said volunteer coordinator and Sagitec employee Renu Jain. "We got loads of hugs and thanks from them which made it even more worthwhile for the whole team."
Everyone on the Oakland team was excited to contribute to the local community, said Jain. "The team felt good and satisfied after serving the underprivileged; they look forward to more initiatives in the future."
Saint Paul, Minn
More than 20 employees who work at Sagitec's corporate headquarters office in Saint Paul, Minn., joined forces on Friday, June 17, to help make 150 sandwiches for people in need around the Twin Cities. With three different workstations set-up, teams of four worked together to assemble the sandwiches. In less than 15 minutes, all of sandwiches were prepared, packaged, and ready to be picked up by a volunteer with the Minneapolis Homeless Ministry.
"After seeing how quick and easy it was to feed 150 people, we are going to make 500 sandwiches the next time we do a volunteer event," said volunteer coordinator and Sagitec employee Kathryn Sibbet.
Denver, Colo
On Thursday, June 16, five employees from the Denver, Colo., office took a break from their normal duties and put their energy into philanthropic work to help their community by donating and stocking shelves at the local Salvation Army food bank. The next day, four Sagitec employees went to the St. Francis Center and assisted the homeless center's staff with basic housekeeping duties in addition to serving lunch to around 300 homeless people.
Sagitec employee and volunteer coordinator Gerilyn Hornsby said donating food items to the local food shelf and serving a meal directly to Denver's homeless community provided Sagitec employees with a comprehensive perspective into the plight thousands of their community members deal with every day.
"We chose to both supply food items and to serve face-to-face to be able to more personally connect with those in need in our own community," said Hornsby.
This initiative ignited a spark within the employees to make a positive difference within their community in the future. "Not only did our employees enjoy these opportunities, we were blessed and totally inspired to repeat these activities on a regular basis," said Hornsby.
Baltimore, Md
On Monday, June 27, around seven employees from Sagitec's Baltimore, Md., office will be serving dinner for Catholic Charities at the Weinberg Housing and Resource Center, said Sagitec employee and volunteer coordinator Akila Charles.
For those employees unable to participate in serving dinner, they will have the opportunity to assemble toiletry bags that will be donated to the Weinberg Center, said Charles.
Catholic Charities is a great way for our employees to help make a difference in the community because it's one of the largest organizations in Maryland and helps thousands of homeless families in the state, explains Charles.
Are you in the market for a new pension administration system?
Download Sagitec's FREE Pension Administration Solution Info Packet to learn more about how Sagitec's technology and business acumen can drive your vision into action!
About Sagitec
Sagitec Solutions, LLC designs and delivers tailor-made pension, provident fund, unemployment insurance and health and life sciences software solutions to clients of all sizes. Understanding that a dynamic world requires dynamic technology, Sagitec offers solutions that are highly configurable and extensible by nature. With deep industry experience in software implementation and systems integration, project management, consulting, hosting and software support, Sagitec is a partner clients can trust to deliver mission-critical IT projects. They are headquartered in Saint Paul, Minnesota. Learn more by visiting http://www.Sagitec.com or by contacting Rick Deshler at (651) 335-3406 or at Rick.Deshler@Sagitec.com.