Medicaid MCOs benefited from the freeze on redeterminations during the COVID-19 pandemic. As a result of the freeze, Medicaid MCOs have experienced significant member growth.
The new members gained over the past two years are mostly lower risk acuity and first-time members. Many have never gone through a redetermination and are unfamiliar with the process. Keeping these members is of vital importance for MCOs. What can MCOs do to ensure their Medicaid members do not lose eligibility due to unfamiliarity and failure to engage in the redetermination process? Here are a few insights to keep in mind.
Strategies for Member Retention
The Centers for Medicare & Medicaid Services (CMS) outlines four strategies during the PHE unwinding: 1
Partnering with Plans to obtain and update beneficiary contact information

Sharing renewal files with Plans to conduct outreach and support individuals enrolled in Medicaid during their renewal period

Enabling plans to conduct outreach to individuals who have recently lost coverage for procedural reasons (such as not returning their renewal form timely)

Permitting plans to assist individuals to transition to and enroll in marketplace coverage if ineligible for Medicaid
We propose a systematic approach to align with strategies 2, 3 & 4. MCOs can use our HealConnect platform to identify potentially ineligible members to educate them about the MCO's Qualified Health Plans (QHP). CMS has explicitly clarified that member outreach about an MCO's QHP to prevent enrollee's loss of coverage will not be considered marketing under 42 CFR 438.104.
Learn How HealConnect Boosts Member Engagement
For all other types of members, consider using HealConnect to:
Stratify members – Identify those who have no history of completing redetermination and are potentially eligible (not aging out or increased income)

Create awareness – Educate members about the redetermination requirements and the need to comply

Nudge members to act – Identify barriers and assist them in the process of application submission
For potentially ineligible members, HealConnect can also educate them about the MCOs' QHP. For all others, including those who get terminated for procedural reasons, HealConnect can conduct structured outreach to help them with recertification.
Employ Digital Outreach Methods
Traditionally, Medicaid has been a transient population. This proved to be the case even more so during the pandemic. Mail, phone calls, and emails are not effective communication strategies. Return mail averages 20-25%2 of outreach efforts. Members don't pick up 82% of unknown-number calls3.
This is why we recommend using multiple methods to reach each member. CMS expressly mentions texting, which has been effective in reaching Medicaid members. Through our work with HealConnect clients, we have seen less than 2% opt-out rates for text messaging.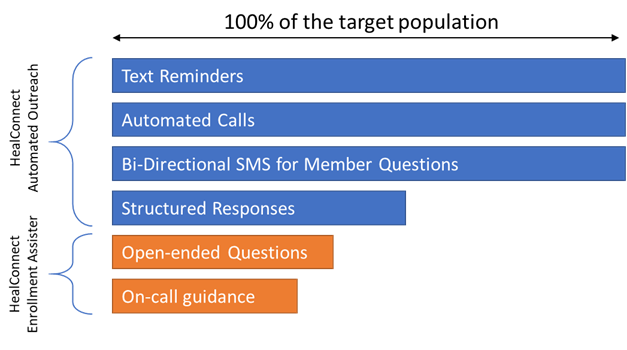 As the above figure shows, HealConnect can automate a significant portion of the member communication, with live Enrollment Assistance used when members are stuck in the process.
HealConnect is a HITRUST certified digital engagement platform built for Medicaid MCOs. The platform helps with redetermination, health risk assessments, HEDIS gap closures, and COVID-19 communications. HealConnect is deployed at two of the top Medicaid MCOs.
HealConnect features include:
Data enrichment and advanced analytics for member segmentation

Multi-channel outreach, including SMS, email, voice, and video

Configurable workflows and campaigns

Member advocate workbench with a knowledge base and message library
For a demo or further information about HealConnect, please contact Ravi Sankar (CJ) at 301-529-9852 or ravisankar.cj@sagitec.com.
Overview of Strategic Approach to Engaging Managed Care Plans to Maximize Continuity of Coverage as States Resume Normal Eligibility and Enrollment Operations -

https://www.medicaid.gov/resources-for-states/downloads/health-plan-strategy.pdf

Discussions with State Medicaid Agencies and MCOs

http://www.pewinternet.org/fact-sheet/mobile/