Technology has changed the face of the world. Especially with the advances made during the last decade. However, if you look at new homes in the U.S., you will realize some outdated technology is still deeply entrenched. Take, for example, telephone jacks; these still come as a default option provided by homebuilders. But how many of us use these telephone jacks? Technologies like VOIP and smartphones have taken over with aggressive pricing, marketing strategies, ease of use, and business value that cannot be overlooked.
Developed countries like the U.S. went through a natural progression of advancement in telephone technology, from fixed line to fiber optics and finally to mobile devices. There are many countries in the world, however, that have smartly leapfrogged over outdated technology and immediately adopted the most modern form of technology in question. Leapfrogging as a concept is where areas with poorly developed technology or economic bases have transformed rapidly through the adoption of modern systems without going through intermediary steps.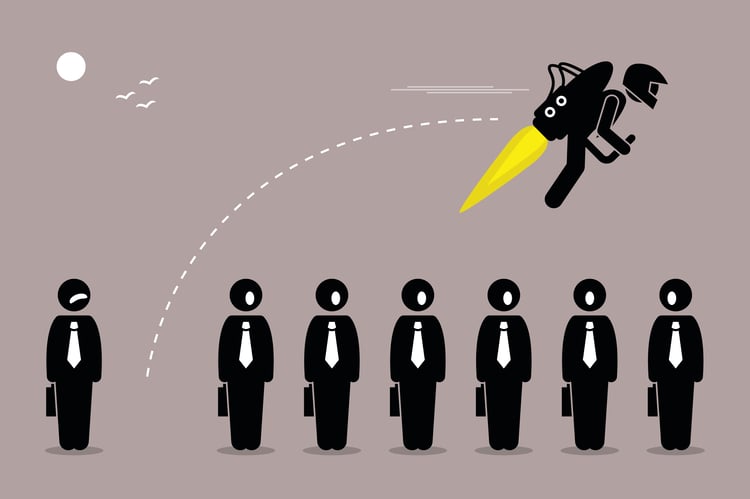 Africa is the perfect case study to learn about the benefits of leapfrogging. Many counties in Africa lack basic infrastructure, so in order to establish telephony it would require huge investments. Rather than sink money into an outdated technology medium, many countries in Africa skipped fixed telephone lines and moved directly to mobile phones. These countries have essentially bypassed a generation of technology, resulting in immense savings. In places with poor infrastructure, bad transportation and scant telephone lines, leapfrogging to mobile phones is a common sense solution. This has had immense impact on businesses and personal lives, and the adoption rate is impressive. In Nigeria alone, 90% of the population has a cell phone.
Telephony is a prime candidate for leapfrogging because of its very nature. Mobile solutions work using radio so there is no need to rely on expensive physical infrastructure like roads and wires. But can some of these best practices be taken to other industries to revolutionize them through mobile solutions?
Let's take the pension industry as an example. In my previous blog post, I had detailed how members and retirees depend on their smart phones to perform all kinds of activities. According to the Pew Research Center, nearly three-quarters (74%) of Americans ages 50-64 are now smartphone owners (a 16-percentage-point increase compared with 2015), as are 42% of those 65 and older (up 12 points from 2015).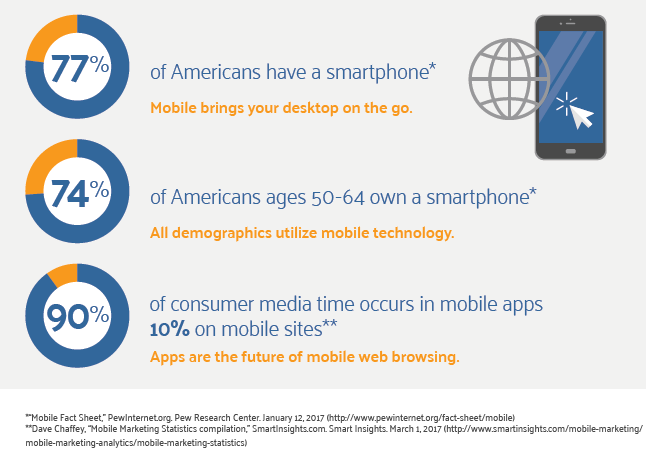 While retirement agencies have explored some digital platforms for delivery service to the members like web portals and even social media, many still haven't adopted mobile. From my experience and conversations with clients, there are many reasons for this: lack of resources, unfamiliarity with integration with existing systems, or even lack of time. But this is the time for pension systems to move to a richer experience for members by employing flexible and scalable mobile tools. There are a couple of ways this can be done:
Integration with existing member portals: If a pension organization has a member portal, integration with a mobile app is simple. This can automate tasks, eliminate time members spend waiting to talk to an agent and even take the burden off of pension agency staff.
No forays into web portals yet: In case pension agencies have not yet implemented a web portal and do not have the bandwidth or budgets to invest in one, they can leapfrog directly to a mobile app.
Here are some use cases and benefits that pension organizations can derive by implementing a state-of-the-art mobile app.
Accelerated implementation time and a flexible pay only for what you use billing model make this a quick win for pension agencies looking to modernize their communication processes. Not only can an app do all of the functions that a web portal can, it offers additional features that enhance the user experience:
Push notifications provide a faster response rate than traditional forms of communication such as a letter, phone call or email. Furthermore, this communication tactic is more cost-effective.
Integration with a smartphone's native camera allows one to upload documents digitally, thereby eliminating the need to fax or mail documents to the pension agency.
Integration with a smartphone's calendar to make scheduling seminar sessions easy for the members. Get clarifications by interacting with a chatbot and eliminate any waiting time.
Rather than expending their effort towards building and enhancing member portals to be compatible with smartphones and tablets, pension organizations should think about leapfrogging directly to a mobile app. This is an affordable, win-win option for both pension agencies and their members and retirees. This, in my opinion, is a disruption waiting to happen for pension agencies – integrate existing systems with a mobile app to enhance member engagement or leapfrog directly to a mobile app.
Retirees and members are ready to leapfrog and go digital – are you?
To learn how you can use Sagitec's mobile app, MOBIAS™, to leapfrog into the digital era, please click the button below. You can also follow the link below to schedule a free MOBIAS™ demo.
About Sagitec Solutions
Sagitec Solutions, LLC designs and delivers tailor-made pension, provident fund, unemployment insurance, and healthcare and life sciences software solutions to clients of all sizes. Understanding that a dynamic world requires dynamic technology, Sagitec offers solutions that are highly configurable and extensible by nature. With deep industry experience in software implementation and systems integration, project management, consulting, hosting and software support, Sagitec is a partner clients can trust to deliver mission-critical IT projects. Find further information by visiting www.Sagitec.com or by contacting Rick Deshler at (651) 335-3406 or at Rick.deshler@sagitec.com.