Digital modernization is a never-ending transformation journey. Beyond application modernization and digital integration, the journey requires agencies to challenge the status quo, experiment, adapt, and evolve.
When you start your digital modernization journey, it means fundamentally transforming how you operate and deliver value to stakeholders. At the center of your strategy, you might begin replacing legacy applications to enhance customer experiences and ROI. Application modernization improves the velocity of new feature delivery, exposes functionality to consume or be consumed by other services, and helps re-platform applications from on-premises to cloud for application scale and performance.

Why Digital Modernization Matters
Digital transformation is the integration of digital technology into all areas of the business. A few decades ago, government agencies began implementing more and more of their business operations through digital technology. Once upon a time, work was primarily completed on paper and stored in file rooms. The digital transformation era moved that work from paper to computers and from physical files to databases. But, as time has moved on, digital technology and what you need has evolved. Now is the time for digital modernization.
You may take on digital modernization for many reasons. But, by far, the most important of these reasons is that you must! Modernizing is required to best serve your stakeholder and citizen expectations.
Here are the common objectives for digital modernization:
You will achieve success if you start your digital modernization initiative(s) with a vision and align all your subsequent actions to it. During this time, you will need to select the right resources and expertise, choose the right technology and other enablers, and focus on creating a culture to support your vision.
Once your vision is in place and you are working on refocusing your people and culture for changes, digital
modernization can be tactically thought of as a group of initiatives aimed to build your vision. While some agencies modify the sequence of initiatives, the roadmap below outlines the way in which most agencies start to scope out the path to digital modernization.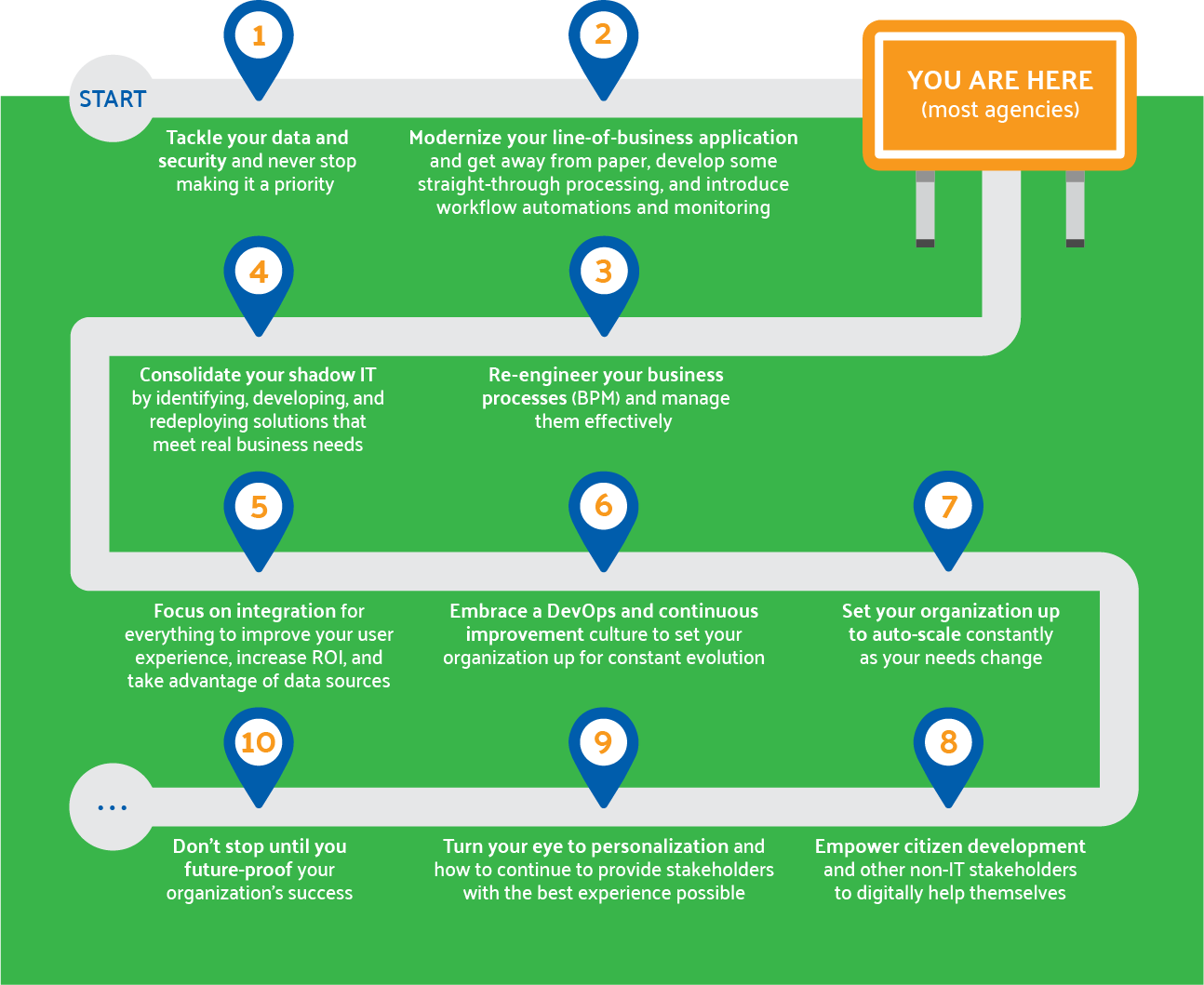 For more than a decade, digital modernization in state and local government agencies has meant many things: sophisticated thinking and implementations around data and security, replacing line-of-business legacy systems with modern-day browser-based solutions with some customer self-service options, and for some agencies, re-engineering business processes to better serve stakeholders. Agencies now realize the benefits following these large-scale initiatives were premature because there's so much more to tackle as part of your digital modernization strategy.
To take it to the next level, you must embrace low-code/no-code development platforms for the foundation of your technology. These platforms provide visual development environments helping minimize or eliminate traditional programming to build complex applications. In addition to enhancing customer experiences and improving ROI, low-code/no-code development can help you with:
Speed with Purpose: The ease of development with low-code/no-code platforms help bring production apps to the agency quickly and cost-effectively.
Flexibility to Continuously Improve: Consolidating shadow IT and orchestrating all your business processes through a simple interface helps you decide when and where modernization is needed.
Scalability When You Need It: Think big, start small, and scale rapidly by turning containerized prototypes into deployable cloud-native apps with a few clicks.
The whitepaper below briefly describes the role of low-code/no-code application development platforms in a continuous digital modernization cycle. It discusses the benefits and challenges of adopting low-code/no-code, describes Sagitec's history and approach to low-code/no-code development, and concludes by discussing how Xelence can advance your application modernization strategy more quickly and efficiently.
Find out more about low-code/no-code platforms and how they help modernize by clicking below.