KPERS among Sagitec's growing list of clients to offer mobile application to members
Saint Paul, Minnesota – February 16, 2017
On February 1st, the Kansas Public Employees Retirement System (KPERS) went live with the New Hire Mobile App, which allows KPERS members to access their benefit account information using their smartphone or tablets. KPERS currently serves over 300,000 members and 1,500 employers.
The New Hire Mobile App (designed and developed on the MOBIASTM Framework by Sagitec Solutions LLC) helps new members with the onboarding process, learning about their KPERS benefits and getting a jump start on saving for retirement. KPERS was the among Sagitec's first few clients to implement the new mobile app technology offering – a list that continues to grow as more and more clients express interest in offering the technology to their members.
Features built into the KPERS New Hire App include:
Understanding KPERS
Designate a Beneficiary
Enroll for Life Insurance
Budgeting Resources
Notifications
KPERS isn't enough – Start saving
Entrust for Password and Security Question
Kristen Basso, Communications Officer at KPERS, had this to say about their partnership with Sagitec and the recently implemented New Hire Mobile App:
"Over the years, Sagitec has been a wonderful technology partner for KPERS. And our new member app project is no exception. They have been unfailingly responsive to our needs and ideas. The experience, skill, and professionalism they bring to the table have made our vision a reality. Our staff and KPERS employers are excited to see the impact the new hire app can have on millennials, meeting them where they are, with the technology they use every day, to help them get a solid start toward retirement readiness." – Kristen Basso, Communications Officer, KPERS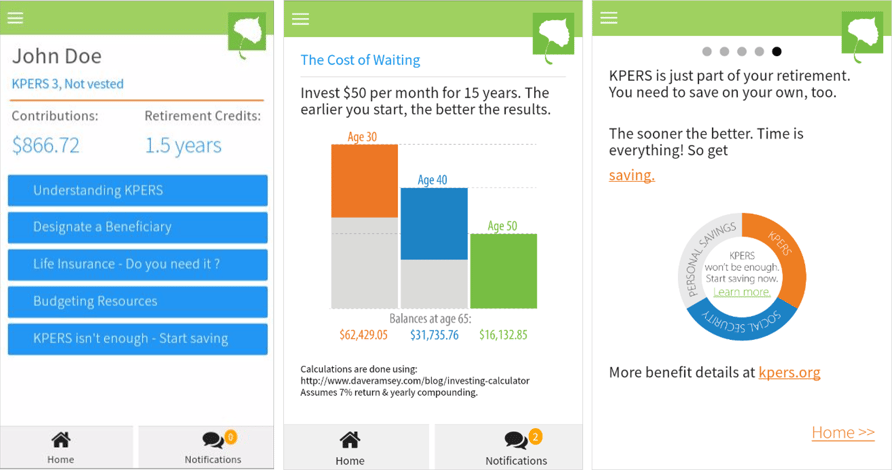 Screen shot examples from the app
As digitization continues to transform the way business is conducted, Sagitec considers itself fortunate to work with clients who value innovation.
"Pension Agencies need to realize that their first step towards digitization is the most difficult step, i.e. to 'think big.' Pension agencies need visionaries who have the appetite to visualize the future. Visionaries who can see where the Financial Industry is headed and who can realize that the Pension Industry (as one of the sub-sectors within the Financial Industry) has been largely bypassed by the digital revolution, transforming the way millions manage their money. Sagitec has found their third visionary in the form of KPERS (after North Dakota PERS), among the first of our clients to go live on the MOBIAS platform. Congratulations to the KPERS team on this achievement." – Manoj Bajaj, Sagitec, Director MOBIAS.
MOBIASTM plugs-in easily into any pension administration system, is secure and simplifies how pension agencies and members stay connected in today's digital world.
Find out how MOBIASTM can help your organization.
Sagitec Solutions, LLC designs and delivers tailor-made pension, provident fund, unemployment insurance, and health and life sciences software solutions to clients of all sizes. Sagitec has the expertise necessary to help their customers achieve strategic business objectives, enhance service offerings, and lower operating costs. Find further information by visiting http://www.Sagitec.com or by contacting Rick Deshler at (651) 335-3406 or at Rick.Deshler@Sagitec.com.