NDPERS first of Sagitec's clients to offer mobile application to members.
On July 8, 2016, the North Dakota Public Employees Retirement System (NDPERS) went live with the PERSLink Member Self Service (MSS) Mobile App, which allows NDPERS members to access their benefit account information using their smartphone or tablets. The PERSLink MSS Mobile App helps members (across multiple retirement and insurance plans serving over 34,000 members and 10,000 retirees) connect with NDPERS and access their accounts.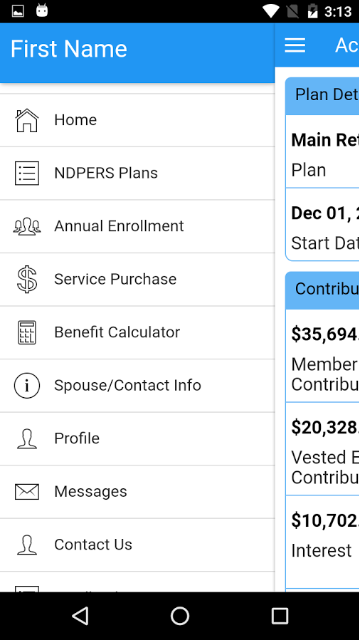 The PERSLink MSS Mobile App (designed and developed on the MOBIASTM Framework by Sagitec Solutions LLC) targets members who need information on the go. NDPERS was the first of Sagitec's clients to implement the new mobile app technology offering.
Features built into the PERSLink MSS Mobile App include:
Home Page
Profile
Address Change
Beneficiary Designation
Contact Information
View Retirement Account Information
View Insurance Account Information
Annual Enrollment for Health, Dental, Vision, and Life Insurance and FlexComp
Benefit Estimates
Service Purchase Estimate
View Payment History
View Direct Deposit
Change Tax Withholding
Feedback
Messages and Communications
Sharmain Dschaak, Business Analyst at NDPERS, had this to say about the recent PERSLink implementation: "Our business relationship with Sagitec continues to grow through the successful implementation of the NDPERS Mobile App. Sagitec assessed our needs while keeping in mind today's consumer expectations of innovative technology. The result, PERSLink Member Self Service (MSS) Mobile App, fortifies our relationship with our clients, establishing NDPERS as a pioneer in connecting with our community while on the go."
About Sagitec Solutions, LLC:
Sagitec Solutions, LLC designs and delivers tailor-made pension, provident fund, unemployment insurance, and health and life sciences software solutions to clients of all sizes. Sagitec has the expertise necessary to help their customers achieve strategic business objectives, enhance service offerings, and lower operating costs. Find further information by visiting http://www.Sagitec.com. For more information, contact Rick Deshler at (651) 335-3406 or at Rick.Deshler@Sagitec.com.