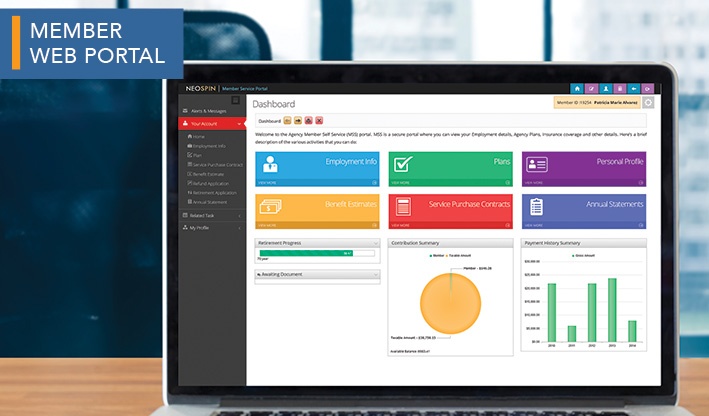 In 2012, Sagitec implemented a MWP for the Missouri Local Government Employees Retirement System (LAGERS) to satisfy the agency's desire to offer their members and retirees increased access to their information.
Ever since the MWP went live in October 2012, LAGERS has experienced significant adoption rates and enormous business benefits. For instance, currently 24.6 percent of their active members and 25.4 percent of retirees have enrolled in the MWP.
When speaking with LAGERS' staff about the MWP, it is evident this service delivery model is yielding great results for the agency. One such benefit is the reduction in paper processing. "There is less incoming mail because our members can apply for benefits and change withholdings, address and beneficiaries on the MWP, said LAGERS' Senior Business Analyst Misty Brazzell. "There is also less outgoing mail because the members can create their own benefit estimates on the MWP."
This modern and technologically driven way of communicating with members does not intimidate retirees, explained Brazzell. "We recently surveyed a select group of retirees and those who applied for retirement online all said they found the process easy."
A recent report compiled by Sagitec personnel sheds light on the operational efficiencies that LAGERS is gaining due to the MWP.
Retirement and Refund Applications: LAGERS offers their members the ability to complete retirement and refund applications through the MWP. When a member starts the application process, a wizard guides the member through the appropriate steps, and business rules and validations are invoked to ensure the information is accurate and compliant with the agency's protocols. Upon completing the process, the member electronically signs the application and submits it to LAGERS. Because LAGERS' Neospin™ application is not integrated with workflow, their retirement specialists utilize passive workflow to verify whether new applications require processing. By simply searching for all applications in 'Submitted' status, staff are able to sort incoming work quickly and efficiently. When the staff member opens the application, all of the information completed by the member is populated on the corresponding maintenance screen, leaving the staff person with the remaining duties of verifying employment data and processing the benefit calculation.

Since the MWP was implemented in October 2012, 13 percent of all retirement applications and 25 percent of all refund applications have been initiated through the portal.
Benefit Estimates: Of all the functionality available through the MWP, benefit estimates are one of the most widely used services by members. Prior to the MWP, members would call LAGERS' staff requesting multiple benefit estimates based on different scenarios, such as age and service credit. However, now members can perform as many benefit estimates as they would like, without assistance from LAGERS' staff. Because the MWP shares the same data as the internal Neospin™ solution, the estimates created by members are identical to the estimates that the staff would create. LAGERS witnesses the customer service benefits this functionality brings to their members every March, which is when the Annual Statements are mailed and posted on the MWP. After the Annual Statements are released, LAGERS sees a spike in benefit estimates being performed in the MWP. For instance in March 2016, members performed 1,038 benefit estimates using the portal.

Since the MWP was implemented in October 2012, members have performed 47 percent of all benefit estimates using the portal.
Address and Beneficiary Changes: One of the benefits of a MWP is that it promotes straight-through processing, which means members or retirees can perform a process through its entirety without staff intervention. LAGERS experiences this benefit when members or retirees change their address or beneficiary designation using the portal. Gone are the days of LAGERS mailing a Change of Address or Beneficiary Designation form to a member and then entering the data upon receiving the form back from the member. Now, members and retirees can update their address or beneficiary information on their own and upon submitting the information, LAGERS' Neospin™ application is simultaneously updated.

Since the MWP was implemented in October 2012, 37 percent of all address changes and 6 percent of all beneficiary changes have been performed using the portal.
Sagitec has extensive experience integrating pension administration solutions with web portals. To learn about Sagitec's various integration strategies and approaches, read this introductory blog post about MWPs. For more information about implementing a MWP into your current IT infrastructure, please contact Diann Clift at (612) 284-7130 or at diann.clift@sagitec.com.
Do you want an analysis of your current IT infrastructure but aren't ready to contact Sagitec for an in-depth assessment? If so, take our free and quick Pension System Assessment to learn how your current system measures against industry best practices.
About Sagitec Solutions
Sagitec Solutions, LLC designs and delivers tailor-made pension, provident fund, and unemployment insurance software solutions to clients of all sizes. With broad industry experience, Sagitec helps their customers achieve strategic business objectives, enhance service offerings, and lower operating costs. They are headquartered in the Twin Cities area of Minnesota. Further information can be found at http://www.sagitec.com or by contacting Rick Deshler at (651) 335-3406 or at rick.deshler@Sagitec.com.