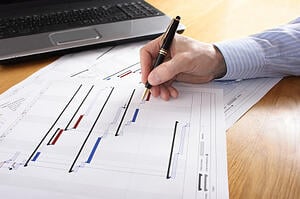 In a recent article on project management from FOXBusiness, contributor Michael Woodward spoke about the "growing field" of project management with Mr. Mark Langley, CEO of the Project Management Institute (PMI). In the article, Langley helps Woodward draw the connection between project management and the increasing need for "internal innovation" in today's challenging business climate. He also identifies the following three key attributes of a successful project manager.
1. Technical Skills
According to the article, the project manager is typically concerned with "horizontal" management as opposed to "vertical" management. In other words, the PM's input is required across a variety of disciplines. The PM has to coordinate between all of the various sub-groups working on the project, and each of those sub-groups has its own set of goals and processes.
To be successful, the PM must find a way to bring all of these parties together and keep them on track.
2. Soft Skills
Woodward and Langley assert that project managers must have an "ability to influence and motivate action." This is not to be confused with—or replaced by—the ability to direct the action of every team member. Generally, team members take direction from their immediate superiors within their functional group. The PM can't get involved micro-managing every action single member of the team. He or she must be able to, from a higher level, inspire everyone to succeed.
3. Strategic Management
PMs have to do more than manage the logistics of the project. They are also responsible for ensuring that the project meets the strategic goals of the organizations involved; in other words, that it is a success. Woodward writes that "there is a direct tie to the mission involving customer relations and go-to-market strategy."
Response?
What do you think of this? Are these three attributes alone enough to make a project manager successful? If not, what's missing? Do you agree with Woodward's assertion that the field of project management is growing? Why or why not?
Considering a new line-of-business solution? Take our free pension system assessment and receive a customized report that contains an evaluation of your current pension administrative software along with key recommendations for improvement.
About Sagitec Solutions:
Sagitec Solutions, LLC designs and delivers tailor-made pension, provident fund, and unemployment insurance software solutions to clients of all sizes. Sagitec has the expertise necessary to help their clients achieve strategic business objectives, enhance service offerings, and lower operating costs. Find further information by visiting http://www.sagitec.com. For more information, contact Rick Deshler at (651) 335-3406 or at rick.deshler@Sagitec.com.