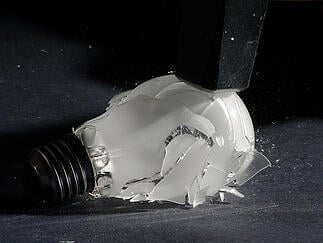 Software development projects are complicated, risky endeavors. Regardless of how solid our methodologies, how talented our teams, how tried and true our technology, eventually things will take a turn for the worse. (You've heard of Murphy's Law, I assume?) But just because things are going badly doesn't mean we need to make them worse. Following are four things that will definitely NOT help save a failing project.
1) Pointing Fingers
When a fire breaks out, you grab a bucket—not a fan. Even though your project is at risk, there may still be time and means to salvage it—but not if you're busy hurling accusations at your business partners. Even if everything is their fault, even if you are completely innocent of any wrongdoing (which, let's be honest, is doubtful), playing the blame game won't get you any closer to a solution. Now is the time to prove your commitment to success and pull together as a team. If it means revising the schedule, reevaluating the scope, or renegotiating the contract, then so be it. A business partnership is a lot like a marriage; you shouldn't file for divorce just because you had a fight. Go to counseling and use your "I" statements.
2) Shoring Up Your Defenses
Understand this: you will never fix a failing project if you're not 100% focused on finding a solution. We all have an innate survival instinct—especially in the dog-eat-dog world of business. But if you enter negotiations half-heartedly, because you're already preoccupied with building a legal case against your business partner, then you've resigned yourself to failure. For the sake of the project, and for the countless stakeholders involved, suppress that desire to save your own skin. Do you really want to get yourself into litigation? Court fees are expensive…
3) Going Dark
This is similar to my last point. If you're going to partner together for a mutual solution, then you need to show up. That means more than sitting at the same conference table. It means sharing information, being communicative in an open, honest environment. Come out of the shadows and step into the light.
4) Going Nuclear
Take your finger off the button. It might be tempting to launch a full-scale offensive, but think about the repercussions. Chances are good that, even though the project is at risk, some measurable progress has been made. A scorched earth policy will obliterate your previous work and leave you with nothing to salvage as you go forward. Instead, leverage your accomplishments and build off them.
Conclusion
Even when things seem bleak, there's usually an opportunity to make the best out of a less-than-ideal situation. Remember that, like any relationship, a business partnership takes trust, respect, and commitment in order to be successful. For better or worse, in good times, and in bad, you're in this thing together.
If you've ever been involved in a failing IT project, we'd love to hear your thoughts. Were you able to overcome your challenges and save the project? What strategies did you use?
Image credit: Elimag
Considering a new line-of-business solution? Download a free information packet to learn more about Sagitec's solution offerings.
About Sagitec Solutions:
Sagitec Solutions, LLC designs and delivers tailor-made pension, provident fund, and unemployment insurance software solutions to clients of all sizes. Sagitec has the expertise necessary to help their clients achieve strategic business objectives, enhance service offerings, and lower operating costs. Find further information by visiting http://www.sagitec.com. For more information, contact Rick Deshler at (651) 335-3406 or at rick.deshler@Sagitec.com.