Sagitec is honored to be named to Government Technology's prestigious list for the second time in a row.
The GovTech 100 is an annual list compiled and published by Government Technology as a compendium of 100 companies focused on, making a difference in, and selling to state and local government agencies across the United States.
It is a great way to recognize companies founded to solve problems unique to the public sector. GovTech 100 companies represent a growing set of scalable, digital solutions addressing the tough, complicated problems that governments face -- from health care and public finance to pension administration and labor and employment.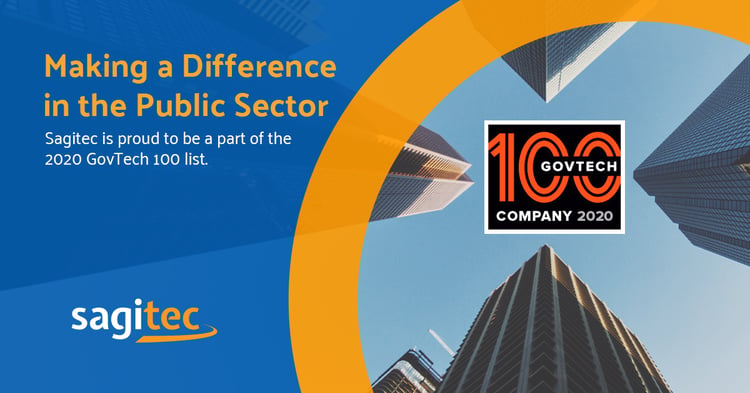 GovTech 100 is in its fifth year now and a lot has changed in these years. Cloud has had a profound impact on technology and is changing the way people use technology. In recent years, the public sector has become more comfortable with cloud and turned to software-as-a-service solutions to make itself faster, more flexible and more effective.
It is an honor to be part of this prestigious list, among a lot of innovative players", said Piyush Jain, CEO, Sagitec. "Our goal has been to help agencies in the benefits administration industry with more advanced and scalable technologies; cloud is one of them. We will continue to invest in innovative technologies, faster processes, and domain expertise to modernize legacy systems."
Sagitec is growing rapidly and has diversified its product offerings to healthcare and the labor and employment market to include paid family medical leave and disability insurance.
Sagitec is proud to be part of this list for the second time this year and is certain that it can help the public sector and the benefits administration industry a lot more with its focus on cloud and cutting edge technology solutions.
Watch this video to know more.
About Sagitec Solutions
Sagitec Solutions, LLC, is a global software provider focused on solving the most complex, business-rule driven problems with the best experts and nimblest technology. Sagitec designs and delivers complex benefits administration software - pension, labor and employment, (unemployment insurance, paid family leave, disability insurance) and healthcare solutions to clients of all sizes. Understanding that a dynamic world requires dynamic technology, Sagitec offers solutions that are highly configurable, rule driven, and extensible by nature. With deep industry experience in software implementation and systems integration, project management, knowledge management, predictive analytics, chatbots, cloud services, consulting, hosting and software support, Sagitec is a partner clients can trust to drive their vision into action . For more information, visit: www.sagitec.com