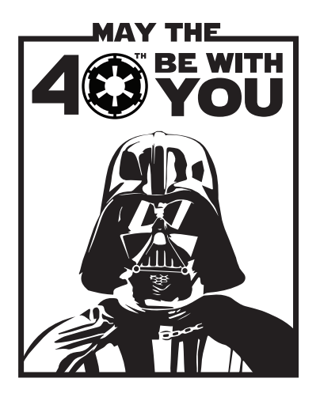 For the past 39 years, Little Canada has hosted an annual, weekend-long community festival dubbed Canadian Days. This year marks the 40th annual celebration, which will be held from July 29th through July 31st. This year's theme is "May the 40th be with You," a nod to the festival's 40th year and cultural phenomenon, Star Wars.
Festival attendees can expect a weekend packed with a host of fun events, including live music, food from local vendors, a carnival for the kids, and a beer garden for the adults.
Headquartered in Little Canada, Sagitec is a proud sponsor of Canadian Days. Many Sagitec employees are regulars at festival events. A get-together to decorate a float to enter in the Canadian Days Parade has become an annual employee event. You'll be able to spot Sagitec employees at the parade donning custom-designed "May the 40th be with You" tees featuring a silhouette of Darth Vader (featured above and created by Sagitec's Graphic Design Manager, Benny Nguyen). This year's parade will begin at noon on Sunday, July 31st, and run from Saxon Lanes to Spooner Park.
Support of and sponsorship of community festivals like Canadian Days is in line with Sagitec's core value to "Be bigger than ourselves." The company emphasizes the desire to make positive contributions to the communities in which its employees live and work.
Other highlights of Canadian Days include a community ice cream social (7/28), corn feed (7/29), a classic car show (7/30), a petting zoo (7/31), and much more! For more information on the weekend's festivities, check out the Canadian Days Schedule of Events.
We look forward to seeing you there!
Is your pension administration system operating at full 'force'? Find out now by taking our free pension system assessment.
About Sagitec Solutions, LLC:
Sagitec Solutions, LLC designs and delivers tailor-made pension, provident fund, and unemployment insurance software solutions to clients of all sizes. Having successfully implemented 14 pension administration solutions (and counting!), Sagitec has the expertise necessary to help their customers achieve strategic business objectives, enhance service offerings, and lower operating costs. Find further information by visiting http://www.Sagitec.com. For more information, contact Rick Deshler at (651) 335-3406 or at Rick.Deshler@Sagitec.com.