Industries that have matured on managing customer satisfaction, like airlines or retail, understand that expectations around service quality, delivered quality and communication are key drivers of consumer satisfaction. One mantra that has become universal is - small variations in delivered quality can result in significant differences in satisfaction/complaints, depending on how expectations and communication are managed.
Take this example of a simple text message from an airline to a customer. Timely updates help customers plan their day better and are therefore relieved that the airline sent the message.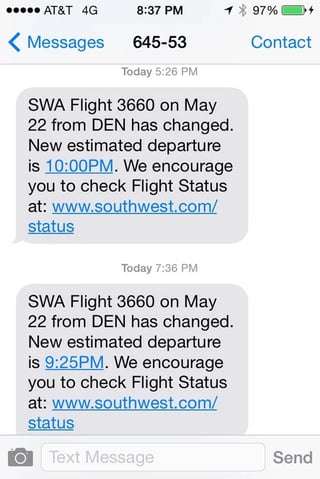 Similarly, in retail, consumers are well aware of what to expect when and if there are any delays in their shipments. Amazon and other online retailers' help consumers keep a track and let them know if there is an update or a change in their delivery date or time.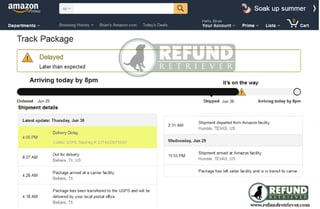 Patient Satisfaction in the Healthcare Industry
The healthcare industry has changed rapidly and has moved towards being a service industry at its core. As consumerization seeps into healthcare with wearables, the patient is the consumer – a buyer of health services. Through various channels like online services, personal devices, reviews and results being delivered real-time; service excellence and patient satisfaction become key measures.
For hospitals and healthcare providers, the key learning is to be able to manage expectations and communications around service quality and excellence. With service-excellence comes patient satisfaction and with that improved patient retention. Best practices from other industries show us that with one satisfied consumer, the information reaches four others. And with one disgruntled consumer, 10 or even more hear about it. The same applies to the healthcare industry. It is estimated that in the USA, loss of a patient due to dissatisfaction, can result in the loss of over $200,000 in income over the lifetime of the practice. But if patients are accepted as consumers, hospitals and providers can work on and improve patient retention and loyalty, thus improving the overall process and eliminating dissatisfaction.
Major themes of patient dissatisfaction
Across multiple studies of patient dissatisfaction, 3 major themes are wait times, environmental issues and communication.
Wait times – Consumers don't like waiting. In this era of instant gratification, patients are the same. Waiting to see the doctor or get treatment doesn't bode well with the new age patient.
Environmental issues –Unclean rooms, noisy wards and an un-aesthetically designed office are unwelcome. Today, patients want clean, adequately lit, and well-equipped offices/treatment facilities with pleasant staff who treat them well.
Communication – How a physician talks to a patient also makes a big impact on patient loyalty and retention. Lack of or improper communication will lead to an unhappy patient/consumer.
Leveraging technology to set expectations and manage communications has become de rigueur in many industries but it is time the healthcare and life sciences industry embraced it. It could start simply by communicating wait times when there is a change in schedule or delay. Apologizing for unclean rooms or updates in test results times and dates could be another area. Another way to leverage technology is to proactively inform patients about traffic delays through real-time updates on their phones. Some examples are shown below.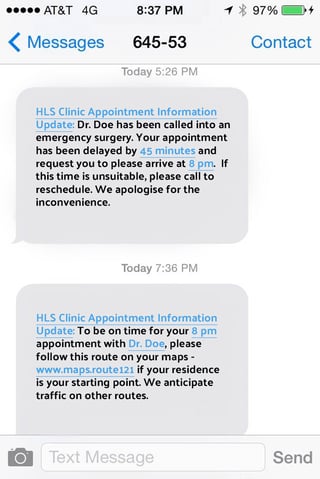 Feedback is also equally important in this value chain to keep satisfaction levels up. A clear forum must be provided to express unhappiness or dissatisfaction and allowing patients to vent their feelings. Be it surveys or social media presence or call-center, having multichannel capability to hear the voice of the patient and suitably respond back to them reduces friction.
Is the healthcare industry ready for the technology transformation? We think so and the first movers will definitely get an advantage. So are you prepared to be the first mover and leverage technology in interesting ways? Do write in with your ideas or go to our product page HealHubTM and find out how it can give you a head start.
About Sagitec Solutions
Sagitec Solutions, LLC designs and delivers tailor-made pension, provident fund, unemployment insurance, and healthcare and life sciences software solutions to clients of all sizes. Understanding that a dynamic world requires dynamic technology, Sagitec offers solutions that are highly configurable and extensible by nature. With deep industry experience in software implementation and systems integration, project management, consulting, hosting and software support, Sagitec is a partner clients can trust to deliver mission-critical IT projects. Find further information by visiting www.Sagitec.com or by contacting Rick Deshler at (651) 335-3406 or at Rick.deshler@sagitec.com.