The Fiji National Provident Fund's (FNPF) ProMIS application, which was designed, developed and implemented by Sagitec Solutions in 2014, received a Certificate of Merit award from the International Social Security Association (ISSA) on Nov. 2, 2015 in Muscat, Oman.
The regional competition recognizes agencies that have implemented innovative solutions to address a specific issue, with the ultimate goal of reaching excellence.
The challenge that the island nation faced was an outdated analog system developed in the 1990s. It could not incorporate the required legislative changes – a 2011 government decree that enabled the superannuation fund to restructure its agenda to protect the future of their members. The antiquated legacy system also relied heavily on manual processes, which caused prolonged processing time and high customer dissatisfaction.
Sagitec developed a truly state-of-the-art application – 67 percent of the system requirements were not available in the legacy system. The ProMIS system, which operates on Sagitec's Neospin™ pension administration software, can interface with various data repositories, automates numerous business processes and streamlines FNPF's core functions using a single integrated platform.
And the application is poised to accommodate further enhancements. The new unified system provides flexibility to incorporate future services, products and business requirements rapidly using a scalable and secure application.
"We are confident that ProMIS will deliver outstanding customer service to all of the FNPF's members and employers for decades to come," said Sagitec Program Director Jeff Bryce. "I was glad to be a part of the Sagitec team at Fiji where we worked collaboratively and tirelessly with the FNPF management and staff to implement the complex system. This success is a testament to the great teamwork between Sagitec and the FNPF."
Implemented at a record pace, in just over eleven months, the new technology impacts every employer and employee in the island nation of Fiji. It touches over 395,000 members and 8,900 employers. These numbers are significant – especially considering the entire population of Fiji is under 900,000.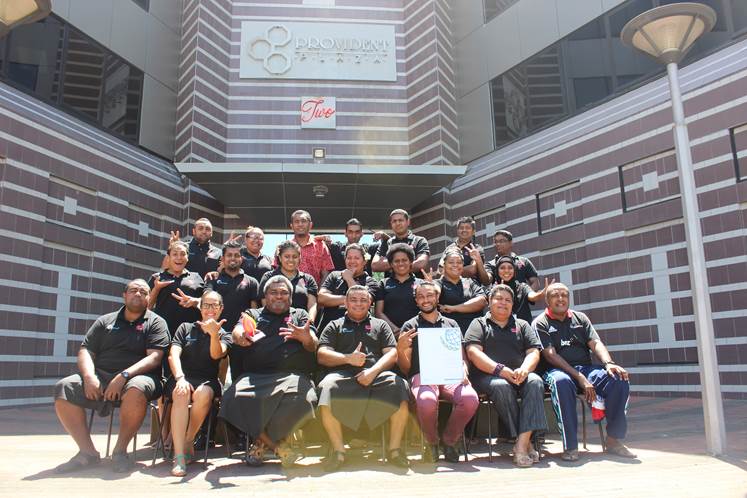 The Fiji National Provident Fund's (FNPF) team members proudly display their Certificate of Merit award outside the fund's headquarters. The project's success is attributed in large part to the collaboration of FNPF's and Sagitec's team members.
"We are glad that we selected Sagitec as our partner to meet our transformation needs," said Assistant General Manager for Member Services Alipate Waqairawai. "Sagitec demonstrated unwavering commitment to the success of the ProMIS project. Together we achieved our goal of implementing the new integrated system with all the bells and whistles – on time and within budget."
The fund's board chairman, Ajith Kodagoda, received the award during the ceremony in Oman. "I'm delighted to receive the award on behalf of the staff and management of FNPF who have sacrificed and worked tirelessly to ensure that the reforms were carried out with the best interest of our members who have entrusted us with their savings," said Kodagoda.
The FNPF, which is the country's largest financial institution, collects compulsory retirement contributions from employees and employers.
ISSA is the world's leading international organization for social security institutions, government departments and agencies.
Do you want an analysis of your current IT infrastructure but aren't ready to contact Sagitec for an in-depth assessment? If so, take our free and quick Pension System Assessment to learn how your current system measures against industry best practices.
About Sagitec Solutions, LLC
Sagitec Solutions, LLC designs and delivers tailor-made benefit management systems for public and private organizations. With broad industry experience, Sagitec helps its customers achieve strategic business objectives, enhance service offerings, and lower operating costs. They are headquartered in the Twin Cities area of Minnesota. Further information can be found at http://www.sagitec.com or by contacting Rick Deshler at (651) 335-3406 or at rick.deshler@Sagitec.com.