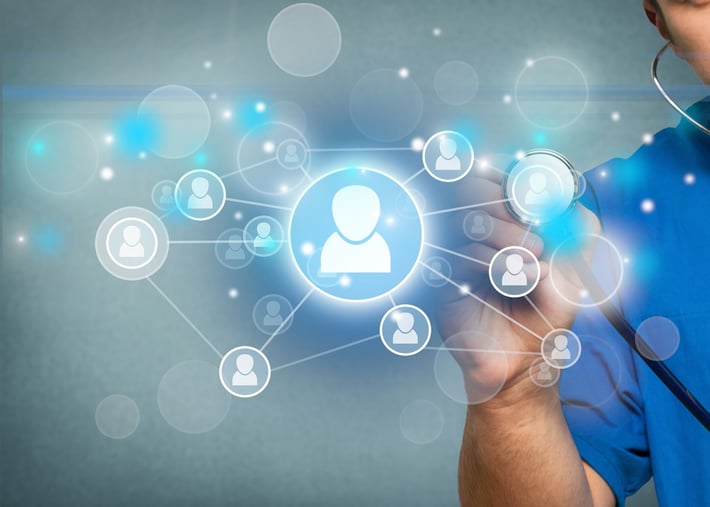 Clinical trials have a profound effect on the health and wellbeing of society, often leading to the approval of groundbreaking drugs that cure and prevent maladies. While clinical research is the gateway to an improved understanding about diseases and treatment, sponsors encounter strong headwinds when administering clinical trials. Recruiting patients to participate in clinical trials is a major challenge, and the trend toward larger clinical trial sizes is only exacerbating the process.
According to Tufts Center for the Study of Drug Development, two-thirds of investigative sites fail to meet the patent enrollment requirements for a given clinical trial[1]. Failure to meet recruitment requirements leads to costly delays. "For each day a company goes beyond the planned deadline for a clinical trial, that company could be losing as much as $600,000 in forgone sales of smaller products and as much as $8 million on blockbuster drugs," according to Industry Standard Research[2]. Before curing the recruitment challenge, one must first understand the factors attributing to this issue.
Clinical Trial Complexity
There are numerous inclusion and exclusion requirements that govern clinical trial design and protocol. While the majority of requirements are necessary for participant safety and effective research, many don't satisfy an objective other than complicating the process. The exhaustive list of inclusion and exclusion criteria is disqualifying willing participants, while also making it hard for sponsors to find eligible patients to enroll in the study. To complicate matters, regulatory requirements associated with some clinical trials (e.g. diabetes drug development) are mandating that sponsors nearly double the number of people participating in trials[3].
Outdated Recruitment Methods
Despite the importance of a strategic recruitment strategy on the efficacy of clinical trials, many sponsors view recruitment one-dimensionally. This constrained approach is evident in the reliance on singular recruitment methods. While traditional outreach through mass mailings, telephone calls and media campaigns are effective, sponsors are not incorporating modern approaches. According to the Clinical Trials Transformation Initiative, "Fewer than 15 percent of recruitment strategies focus on new technologies (e.g., electronic medical records, data mining) and web 2.0 (social media and networking, and online advertising)."[4]
Lack of Physician Awareness
Although direct outreach to potential patients undoubtedly improves recruitment efforts, informing physicians about clinical trials is arguably more effective. According to ICON, empirical evidence has shown "that a recommendation by their physician was the primary factor influencing patients' decisions to enroll in a trial.[5]" In spite of this fact, the National Cancer Institute has found a lack of awareness within the medical community of available clinical trials. A lack of physician awareness leads to uninformed patients. According to a Research!America poll, "70 percent of respondents indicated that a healthcare professional has never broached the topic of clinical trials, but an overwhelming 72 percent of respondents would be willing or somewhat willing to participate in a trial if their doctor identified a clinical trial for them"[6].
Poor Performing Study Sites
The study site location is inextricably linked to successful recruitment and retention. In 2015, CTTI surveyed clinical trial sponsors, research sites and patient advocacy organizations in an effort to improve recruitment. According to the survey results, "respondents noted that it is important for sites to undergo feasibility studies, to be in a convenient location for participants, and to have documented availability of potential participants."[7] However, without leveraging technology and multiple data sources, analyzing site performance is a daunting task.
The Elixir to Recruitment Challenges
By leveraging multiple data sources - from electronic medical records and claims data, to national databases and social media - pharma companies can efficiently find patients that satisfy complex clinical trial criteria. The heightened awareness gained through myriad data streams allows sponsors to send notifications to physicians when a clinical trial is applicable to specific patients. Sponsors can also vet trial sites based on patient data and existing competitor trial sites in a given location.
If you are interested in learning more about how a DataOps platform can help you manage multiple healthcare related data sources, contact Sagitec Solutions.
About Sagitec Solutions
Sagitec Solutions, LLC designs and delivers tailor-made pension, provident fund, unemployment insurance, and health and life sciences software solutions to clients of all sizes. Understanding that a dynamic world requires dynamic technology, Sagitec offers solutions that are highly configurable and extensible by nature. With deep industry experience in software implementation and systems integration, project management, consulting, hosting and software support, Sagitec is a partner clients can trust to deliver mission-critical IT projects. They are headquartered in Saint Paul, Minnesota. Learn more by visiting http://www.Sagitec.com or by contacting Rick Deshler at (651) 335-3406 or at Rick.Deshler@Sagitec.com.
[1] Tufts Center for the Study of Drug Development. (2011). Drug Developers Actively Improving Efficiency of Clinical Trials. Retrieved from http://csdd.tufts.edu/news/complete_story/rd_pr_apr_2011
[2] Industry Standard Research. (2014). The Expanding Web of Clinical Trial Patient Recruitment. Retrieved from http://www.isrreports.com/wp-content/uploads/2014/04/ISR-The-Expanding-Web-of-Clinical-Trial-Patient-Recruitment-Whitepaper.pdf
[3] Pharmaceutical Product Development. (2010). Type 2 Diabetes: Current Trends and Challenges in Clinical Development. Retrieved from http://www.ppdi.com/
[4] Clinical Trials Transformation Initiative. (2015). CTTI Recruitment Project. Retrieved from https://www.ctti-clinicaltrials.org/files/Recruitment-MeetingSummary.pdf
[5] ICON. (2004). Current challenges in clinical trial patient recruitment and enrollment. Retrieved from https://clinicaltrials.llu.edu/sites/clinicaltrials.llu.edu/files/docs/current-challenges-in-clinical-trial-patient-recruitment-and-enrollment.pdf
[6] Clinical Trials Transformation Initiative. (2015). CTTI Recruitment Project. Retrieved from https://www.ctti-clinicaltrials.org/files/Recruitment-MeetingSummary.pdf
[7] Applied Clinical Trials. (2015). Barriers to clinical trial recruitment and possible solutions: A stakeholder survey. Retrieved from http://www.appliedclinicaltrialsonline.com/barriers-clinical-trial-recruitment-and-possible-solutions-stakeholder-survey?pageID=2